Considering a Resignation Counteroffer? Don't. Here's Why.
June 3, 2014
Want to know the number one thing that employees regret? The absolute shot in the foot that will undoubtedly lead to demise? We'll give you a hint what it is (see the title). Yes, professionals,
the single most self-destructive thing an employee can do in the short and long term is accepting a counteroffer from his or her employer.
Why? Here are 4 reasons that accepting the counteroffer will cause you unnecessary pain.
You Know Why You're Leaving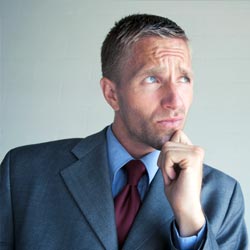 No matter the reason, you know exactly why you wanted to leave in the first place. Was the commute too far? Pay too low? Duties too menial?
You already analyzed the reasons you want to leave; you may have already attempted to negotiate compensation, telecommuting options, or additional responsibilities (with no avail); and you have found a company that will offer you exactly what you need to fulfill your desires.
If you had already negotiated without avail for your deal-breakers, why would a sudden change of heart conveniently come when you were about to leave?
Trust? Respect? Not Anymore.
If you just admitted that you're entertaining the option of leaving, you lost all the trust you have worked to gain. Every phone call gets more attention, every doctor appointment looks more suspicious, and every haircut looks like preparation for another interview.
Also, once you accept a counteroffer, you just admitted who really calls the shots in your career.
Your Company Only Promoted You because You Want to Quit
Sound bad? Sound depressing? Sound like an employer for whom you'd want to work? The promotion, raise, or change of heart wasn't based on your merit; it was strictly based on the fact that your employer would need to spend time and money replacing you. How many other employees have been coaxed into staying through that reasoning? Do you ever wonder how [name] got promoted even though he or she wasn't the best or brightest? Maybe that's the reason.
Once your company starts to promote and give raises based on negativity, the culture is that of pettiness, not strategy. Learn more about company culture through our brief primer on company culture.
Who's the First Person on the Chopping Block?
You just talked to your boss, who relentlessly pleaded for you to stay. If you accepted a counter-offer, you're nowhere near the Promised Land.
Accepting a counteroffer may meet your temporary needs, but minutes earlier, you just explained to your boss that you look to leave the company. Once you admit that, you become much more easily replaceable.
What happens during a layoff? You already admitted that you don't want to stay with the company. Why would your boss have a change of heart when (s)he is distributing the pink slips? Additionally, it is not uncommon for employers to begin recruiting for your replacement once you accept the counteroffer. Why? They were going to be doing it if you left; what's stopping them from doing it after you accept your counteroffer?
The best employers rarely counteroffer. They know what it takes to maintain a healthy company culture, and are not insecure about their strategy. It is always better to hear the words "Thank you for your service, consider us in your next job search," than "We're begging you to stay. Here's everything you have been requesting for years."
Save yourself the time and potential embarrassment by accepting the job at hand and knowing that the job you are leaving was a great opportunity for career growth.
The Overture Group cares about helping you recognize your value as a top candidate. As a leading provider of recruiting services to candidates and clients, we seek to assist you on your next move. Submit your credentials for more details on building your impact with a highly reputable company.
We thank Forbes contributor Lisa Quast for the inspiration in our article on counteroffers. We welcome you to read "Why you should never accept a counteroffer when you resign."
---