A Primer on Company Culture
April 22, 2014
From Intern to CEO, company culture is the defining factor for a desirable company built for growth. What is company culture? How do you communicate it? How do you develop employee buy-in?
In this short blog, we will share with you the basics into company culture and how to improve yours.
What is Company Culture?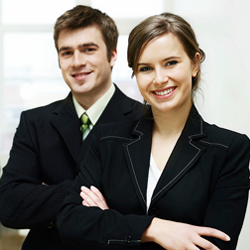 A somewhat overused term for both job seekers and employers, company culture has taken on many meanings over the years. At a base level though, company culture can be defined as a blend of the values, beliefs, taboos, symbols, rituals and myths all companies develop over time. But this goes deeper than that. Harvard Business Review, after a study of 400 senior executives from global leaders found this.
Performance Attributes in Company Culture
Culture is more than just a unique identity, however. The best performing companies typically display a set of performance attributes that align with the company's strategy and reinforce the right employee behaviors. Research revealed seven of these:
1. Honest. There is high integrity in all interactions, with employees, customers, suppliers, and other stakeholders;
2. Performance-focused. Rewards, development, and other talent-management practices are in sync with the underlying drivers of performance;
3. Accountable and owner-like. Roles, responsibilities, and authority all reinforce ownership over work and results;
4. Collaborative. There's a recognition that the best ideas come from the exchange and sharing of ideas between individuals and teams;
5. Agile and adaptive. The organization is able to turn on a dime when necessary and adapt to changes in the external environment;
6. Innovative. Employees push the envelope in terms of new ways of thinking; and
7. Oriented toward winning. There is strong ambition focused on objective measures of success, either versus the competition or against some absolute standard of excellence.
Few organizations exhibit all seven of these attributes. But high-performing organizations typically spike on the three or four that are most critical to their success. Winning cultures treat performance as an explicit output and foster an environment that is conducive to generating the best possible results — not just for employees, but for customers, suppliers, and, yes, even shareholders.
Communicating Company Culture to Employees
After defining a clear company culture, how do you intend to communicate and build employee adoption of company culture? What steps can you take so that this culture is understood, embraced, and most importantly practiced?
Places to Communicate Company Culture
SmartCEO, a magazine focused on developing strategic leadership among business leaders, has provided 10 starting points in communication of company culture.
Employee Satisfaction/Climate Surveys
Social "Extra-Curricular" Activities
Company Intranet/Website
Team Building Activities
Memos and Letters
Newsletters
Handbooks
Meetings
FAQs
Getting Feedback on Company Culture
The only way to see if employees believe and understand is to ask. Where do you begin? A big point in creating a feedback oriented culture is to create trust. HBR offers these three tips on creating safety and trust in the workplace.
Get to Know Each Other
Talk about Emotions
Understand the power of no
Getting Employee Cultural Buy-In
We recently wrote a blog that was developed for this exact purpose. In 'Aligning Strategy and Culture,' we share 5 steps in aligning strategy and culture to improve employee retention and long-term company growth.
1. Redefine Cultural Attributes to Align with Core Values
2. Define Behaviors that support Core Values
3. Recognize Employees who are committed to these values
4. Use Recognition as Training
5. Monitor, Measure, and Report Recognition of Values
The Overture Group has decades of experience in helping you find the right talent that supports overall growth and cultural development. Committed to and specializing in finding the right fit among financial and leadership positions, we are hiring on all cylinders to ensure your company is primed for long-term strategic success. Download our whitepaper, A Roadmap for Talent Acquisition Success, to learn more.
Finally, follow The Overture Group on Twitter, subscribe to our RSS Feed, and contact us to learn more about hiring on all cylinders with The Overture Group.
Please share this with anyone interested in improving company culture through strategic implementation.
---