Recruiting: 6 Tips for Employers to Develop a Sales Pitch
February 18, 2014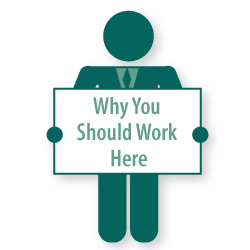 A key part of your strategy for attracting, recruiting, and retaining talent is to first determine why a candidate will want this position and also why he'll want to work for your company. You need to be able to sell both the job opportunity, and your company.
Often times, companies fall short on this step not because they do not have a good story to tell, but because they did not take the time to develop it.
Remember during this process to be thorough, think it through, and tell your story consistently.
Developing Your Sales Pitch
You'll need to be able to answer the following questions to successfully develop your company's "sales pitch" for new talent:
1. What is the vision for the company or organization in three, five and ten years? Think in terms of the following: Revenues, number of employees, new markets, services or products, profitability. Don't be afraid to talk about the softer matters like cultural change and change management initiatives that the company plans for the future.
2. How does your organization differ from your competitors? What is your competitive advantage? Can you substantiate or quantify this?
3. Is this position newly created or is this revised? If it has been revised, how should the position appeal to the candidate?
4. What is the turnover in your company? Why do people stay? Why do they leave? Here's some tips for employee retention.
5. If this is a privately held company either owned by an individual(s), family or private equity firm, executive and management level candidates will want to know the succession plan or exit strategy. Answers to these questions can convey a big opportunity or raise some questions.
6. Do you understand what the market pays for this position? Have you benchmarked the salary, annual incentive and, if appropriate, the long-term incentive and related benefits for this position? If your total compensation package falls below the median you will not be able to attract top talent for this position. If you do attract them, you will run the risk of not retaining them over time. More on 2014 compensation trends.
By answering these questions yourself, you will be able to further develop your recruiting strategy, and also be more prepared when you get these questions from a candidate. For more information on developing your sales pitch, download our free whitepaper Talent Acquisition: A Road Map for Success or contact The Overture Group.
The Overture Group knows and understands the purpose and planning that goes into an effective recruiting strategy. Hiring on all cylinders, we bring the perfect meeting point between candidates and clients. Explore more of our website to see how our effective process can assist your company in meeting your recruiting goals.
---