The Most Important Hiring Question You're Likely Missing
January 14, 2014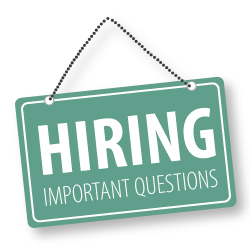 For many employers, especially smaller businesses, the hiring process is often a dreaded grueling, cumbersome process. To help these small business owners get through it, they many times look towards a template for interviewing which includes focusing on a candidate's background, skills, and experience.
Now, we're definitely not saying that these are not very important factors when it comes to finding the best candidate, however they should by no means be the only factors.
In his article The Most Important, Most Overlooked Hiring Question, Ray Silverstein, founder of PRO (President's Resource Organization), points out the necessity of exploring an applicant's core values and ensuring that they match that of your organization.
Why is this so important? Well Silverstein provides three very convincing reasons why taking a closer look at an applicant's core values will be in the best interest of both you, and your business.
Turnover costs
Making a bad hiring choice is one of the most costly mistakes an entrepreneur or small business owner can make. Consider the recruitment costs, training costs, and lost opportunity costs incurred when an employee fails.
You can build skills
Think about it. Skills can be sharpened. Knowledge can be acquired. Processes can be learned. But the kind of person you are in your heart isn't likely to change. If you hire someone who's competent but doesn't share your values, you're almost predestined to part ways down the line.
Company culture
Knowing your company's core values is what ultimately drives company culture. Say, you're hiring an office manager, and work/life balance is one of your priorities. Or, conversely, maybe getting the job done is, at any cost. Either way, wouldn't it be good to know what a candidate would do if forced to choose between staying to push a key project out the door or attending his/her child's big recital?
A good way to start evaluating a candidate's core values is to include some related questions in the interview. Below are some good ones to start with:
What would you do if…
Did you ever have to choose between…
What matters more to you…
…and address the issues that matter most to you.
Any questions? Or need help finding the right candidate? Contact The Overture Group.
---