The First Day: Ensuring New Hire Success
October 28, 2014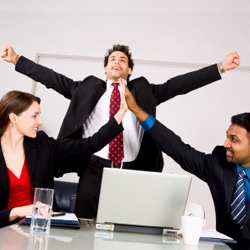 First impressions work both ways. From an employee's perspective, it is important to meet the team that he or she will be a part of, impress the managers, and understand in entirety the job role.
But too often, managers forget that they are also making an impression on a new hire. If your new hire's first day consists of curt introductions, lengthy discussions with HR, and lengthier paperwork, is this a good first impression?
Think of the facts:
Half of all senior outside hires fail within 18 months in a new position.
Half of all hourly workers leave new jobs within the first 120 days
Research and conventional wisdom both suggest that employees get about 90 days to prove themselves in a new job. The faster new hires feel welcome and prepared for their jobs, the faster they will be able to successfully contribute to the firm's mission.
So, what steps can be taken to ensure a positive first day and set the employee up for a successful first 90 days?
Prepare Your Team
If part of the onboarding program includes a job shadowing or even a team introduction, don't just throw the new hire into a team member's workstation without at least preparing said team member. Walk your team through the expectations and key points to drive home.
Without preparation, you could be sending the new hire into a complex problem that will do little more than scare the new hire.
If shadowing is going to be part of the employee's first day, the people he or she is shadowing need to be fully prepared, knowing the exact concepts they need to explain and processes they need to demo. The process will go much smoother, and your new employee won't feel like he or she is disrupting someone else's normal routine.
Create a Personal Connection
Have you ever been part of a new organization, in which the five-minute tour included "Here's the marketing department; there's Sarah, Jordan, Taylor, Tyler, and Alex"? How much did that accomplish? First of all, four of those names could be either men or women. Second of all, if the new hire is being introduced to eight or nine of these departments, what's the value of sixty or seventy names to said hire?
Instead, opt for creating more personal connections, even if it takes a bit longer in the walkthrough. Try this: "This is Allie, our new business analyst. She's amazing with Salesforce reports, so she'll be a huge help with analyzing our current marketing strategy. In the meantime, she'll be available to help put together reports for any of your current projects—so touch base with her to let her know what you need."
Maybe even try to create a truly personal connection by mentioning hobbies, favorite teams, favorite music or the like. This will help acclimate new hires to each organization much more easily.
These tips are just two of the ideas to make the first day easier. Of course, it is important to inform new hires of policy; but shouldn't the first couple of hours be the most welcoming experience? Learn more from these resources:
For more tips on improving employee confidence in the following days, we have covered these points in the following:
Also, we welcome you to download our whitepaper. "Onboarding: An Investment in Your Team."
---