5 Tips to Bridge the Skills Gap
March 4, 2014
What is the skills gap, how is it affecting the growth of American Companies, and what can employers do to find the right employees? How can you, as a company, overcome the gap and provide long-term company returns?
A recent HR Bartender article takes a look at the key training and recruiting strategies that can help employers to overcome the skills gap.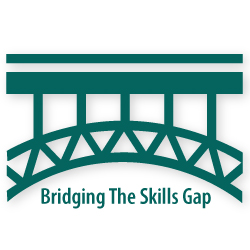 This year, leaders ranging from President Obama to Society for Human Resource Management (SHRM) CEO, Hank Jackson, have called on US employers to address the current skills gap in the country. The PricewaterhouseCoopers Trendsetter Barometer report found that 57% of companies plan to hire this year, while 25% cite finding qualified workers a barrier to growth.
What is a "skills gap"?
A "skills gap" is often referred to as the space between skills job seekers currently have and the skills employers are seeking. From an employer perspective, the skills gap is "the gap between an organization's current capabilities and the skills it needs to achieve its goals" as defined by the American Society for Training and Development (ASTD).
Skills gaps are harmful to a company's bottom line because they can keep them from hiring the necessary individuals to grow and therefore stay competitive.
Although a skills gap can be daunting and frustrating for HR professionals, there are steps that can be taken to ensure your company is bridging the gap. Here are 5 tips for overcoming the skills gap via HR Bartender Blog.
1. Build relationships with the Education Community.
Business leaders should share with the education community the skills the business requires from graduates. They should also give feedback about the skills they are seeing in candidate interviews as well as the ones they'd like to see more. Hopefully those conversations will prompt revisions in curriculum. Because colleges want their graduates to get jobs.
2. Develop an Internal Skills Training Program.
For those skills that cannot be obtained in the university setting (and we both know there are some), this is where corporations need to develop internal training programs designed to give employees the skills they need. Or partner with an external organization that can provide the skill. Either way, we have to realize everything cannot be learned in school and build a strategy for skills development within our organizations.
Related: Why should HR Focus on Strategic Management?
3. Teach, Train, and Recruit for Top Certifications.
Many jobs and industries have specific certificate programs and professional certifications that provide continuing education for professionals. Partnering with these programs could provide a valuable source of applicant flow. It could also be a way to increase the skills of existing employees.
4. Develop a Technologically Adept Recruiting Strategy.
Candidates today want an easy application process. Frankly, we all want an easy application process – otherwise, candidates won't use it. Taking advantage of what technology can do for us only makes sense.
Related: Develop Your Employer Sales Pitch
5. Develop a Talent Network Now for the Best Employees Later.
There are some jobs that we know are tough to fill. With the skills gap, even more jobs will become a challenge. Creating a talent network to keep candidates engaged with the company only makes sense. However, a talent network will not be successful if you don't start one until you need it.
To ensure they are able to continue growing and staying competitive in the marketplace, organizations must start working strategies into their recruiting process to effectively address the skills gap.
Related: A Road Map for Successful Talent Acquisition
The Overture Group is an Executive Recruiting and Interim Placement that understands that there are many ways for employers to overcome the current skills gap on all levels of employment. We welcome any input from other recruiting and human resources professionals and also welcome you to follow us on our Twitter Profile (@Overture_Group) for more knowledge.
---