4 Retention Strategies for Companies Not Named Google
April 14, 2015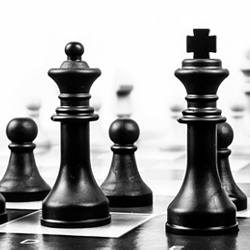 Even the smallest companies have the tools available to them to engage, acquire, and retain employees.
Maybe you don't have a private chef, or a Nordic country level time-off package, or even a ping pong table, but there are ways to keep the best employees from leaving in 2015.
Although it could be as simple as saying "Learn what employees want and give it to them," meeting the needs of one rarely satisfies the needs of all.
So, what do you need for retention in 2015, even if you're not buying "nap pods"? Here are four starting points.
1. Put the Human in Human Resources
Common sense, right? It's much more than that. No one wants to be a resource. With more employees burned out and fewer employees engaged, the secret is to learn about the person behind the position. Rod Wagner, author of the book Widgets: 12 New Rules for Managing Employees as if They're Real People, did just that: Offered 12 simple rules for leading employees. Here are six of our favorites. View all twelve on a recent Inc. article.
Get Inside Their Heads: Take the time to better understand who the employee is, what each is looking for, and how you can help them achieve personal goals.
Make Them Fearless: Employees, especially creative types, live in constant fear, and "scared chickens lay no eggs." If you are able to reward ideas and chance-taking, it will prevent paralysis from fear.
Pay Peanuts, Get Monkeys (Or nothing): Make sure you can offer at least a competitive salary.
Give Them a Portrait of Their Future: No one likes being unsure of what their future entails. If you and the employee have a clear view of the employee's future, you can maintain employee engagement.
Be Transparent: Transparency has, is, and always will be vital to employee engagement and retention. Just as it is important to paint a picture of the future, do this in everything the employee does.
Magnify Success: Make a big deal of employee and team successes—in a way tailored to an employee's personality type. Learn more about rewarding employees in "Showing Gratitude to Employees All Year Long (Without Breaking the Bank."
2. Know What Perks Actually Matter
Most employees don't care about egregious perks. Said perks aren't contributing to your culture either. New hires want training—good training that ensures they actually will succeed (BambooHR).
Current employees at a company want engagement and satisfaction. Consider employees in high-stress sales roles. The free beer on Friday after four isn't doing much for retention.
Randy Allen, associate dean of Cornell University's Samuel Curtis Johnson Graduate School of Management, said this: "There's a lot of research out there that says, although it depends on the employee, the perks come out as less important as job satisfaction […] If you don't have those fundamentals, the perks aren't going to fix it."
CareerBuilder, in a recent survey, found that although only 26% of workers said that providing perks would cause them to stay at a company, employees really will stay if you can provide them these:
Increased Salaries (76 Percent)
Better Benefits (58 Percent)
Provide flexible schedules (51 percent)
Increase employee recognition (awards, cash prizes, company trips) (50 percent)
Ask employees what they want and put feedback into action (48 percent)
Increase training and learning opportunities (35 percent)
Hire additional workers to ease workloads (22 percent)
Provide academic reimbursement (22 percent)
Carve out specific career paths and promote more (21 percent)
Institute a more casual dress code (14 percent)
3. Deliver a Culture of Wellness
As mentioned as part of the knowing what benefits and perks actually matter, better benefits are in high demand. How much so? In a recent article by the Healthcare Trends Institute, employers are turning to wellness for retention, satisfaction, minimized absenteeism, and engagement.
Attraction and Retention: A 2013 survey by Virgin Health Miles/Workforce Magazine says 87% of employees say they consider health and wellness packages when choosing an employer.
Job Satisfaction: Aflac's 2013 study revealed that 66% of employees enrolled in worksite wellness programs are extremely or very satisfied with their job, compared with 53% of employees whose company doesn't offer a wellness program. Having a wellness program also boost morale, as companies with wellness programs are less likely to have employees "extremely" or "very" likely to leave within 12 months (19% vs. 30%)
Minimized Absenteeism: This speaks for itself on many accounts. A study by Health Affairs found that for every dollar spent on wellness programs, medical costs fall by about $3.27 and that absenteeism costs fall by about $2.73. With less work missed due to illness, there is less pressure on other employees.
Engagement: Although an official measurement on engagement is tricky, companies that have implemented a wellness plan are more likely to view employees as "engaged." International Foundation of Employee Benefit Plans' Workplace Wellness Trends 2015 Survey Results indicate that 54% of organizations who are measuring engagement to measure the impact of their wellness programs say their wellness efforts have indeed improved engagement.
4. First "Who," then "What"
One of the biggest secrets to retention and overall success in business is this: Get the right people in the right seats on the bus.
Well, it's not a secret—it's one of the key concepts of "Good to Great" by Jim Collins.
This isn't even a hire and fire concern. This could be a shifting roles concern.
Build a team that can work together, debate, and come up with what's best for the team and the company before the individual.
To find the right people, to build the right teams, to drive success in all facets. This will convince employees that the bus is heading in the right direction, and that they will have something to be proud of today, tomorrow, and well into the future. For more information, learn about the SEARCH acronym in team building.
If you need to find the right people, those who will fit into whichever strategy the company needs for growth, consider working with a company that has been finding these people for years—even decades.
Learn more about our 4-step methodology, and contact us today.
---