How to Show Employee Gratitude without Hurting Your Bank
November 26, 2014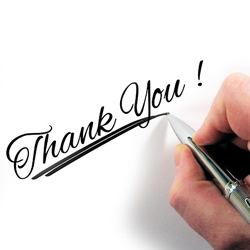 With tomorrow being Thanksgiving, employers are looking for unique opportunities to show gratitude to employees for their hard work and dedication each day. But why focus on a single day to do so? Just as once-yearly performance reviews create stress, once-yearly displays of gratitude appear cliché and forced—if employees receive shows of gratitude at all. So why don't employers do the little things to thank employees all year long?
Expressing gratitude to employees is important, not only in the form of retention and culture, but also in productivity.
For instance, a 2013 Glassdoor study revealed that more than 80 percent of employees say they're motivated to work harder when their boss shows appreciation for their work.
But with employees craving expressions of gratitude, why do only 56 percent report that they seldom if ever get a thank you from their boss?
A major issue, of course, is how you show thanks to employees. With so many diverse personalities in the workplace, it is impossible to create a single display of thanks to each employee without leaving others feeling shorted.
This is why it is important to express gratitude in unique ways. But how can you do this without breaking the budget or dipping into your book of cliché office events from the 90s?
Popforms, a site focused on developing leaders, shared some great advice on thanking employees (as well as employers, peers, and bosses):
Sincerity and Directness
Tied to a specific accomplishment or trait
Personality (Not just 'the organization thanks you for your hard work and dedication'), a handwritten note or in-person thank you means much more than a generic Microsoft Word template thank you note.
Focused on the big picture
Tailored to the employee's personality traits
So what can you do specifically? We welcome you to check out the following pieces of advice from across the web:
Saying 'Thank You' is only one part of creating a workplace culture that retains and attracts employees. For more information, read our primer on company culture, and fill your organization with the right managers who will lead others effectively.
This is where The Overture Group can help. We help your organization find the talent that augments your current team. Through our four-phase process, we learn about your company and find the right people. Contact us today to see what we can do for you.
---