4 Recruiting Trends in 2015 (And How to Succeed)
September 23, 2014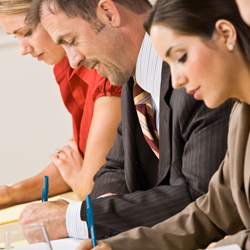 Brace yourself… The '2015 Prediction' posts are coming. But why are companies obsessed with waiting until December 28 to share these posts? Further, why are these companies incessant on predicting trends without offering actionable advice? At The Overture Group, we treat our blog writing like our recruiting—thorough, smart, and when needed, fast—to build relationships and be bring you the best candidates. This is why we'd like to offer not only predictions for 2015, but how to make them work for your company.
For recruiters, it's always about being on the cutting edge—technology, candidate leads, even psychological selling points—and this will help you get your 2015 recruiting strategies in place before it's too late.
After surveying over 4,100 talent decision makers, LinkedIn shared the US Recruiting Trends Report, which offers insights on the challenges and solutions talent acquisition specialists face today.
In this, the authors share the four trends that will define the future of talent acquisition in America, and we share how to overcome future recruiting challenges, thanks to a recent ERE think tank.
1. SHIFT TO COMPETITION FOR CANDIDATES
53% of US leaders find competition for top talent to be a considerable obstacle. This has been on the rise since 2012, and as the job market improves, finding talent will continually become tougher.
With more competition for candidates comes higher compensation, the survey found. This makes sense, because when compensation is a barrier to landing people, competition is typically a driving force behind that. When competition gets hot, companies use salary as a lure.
How to Prepare
Big Data Recruiting: Recruiters have always had analytics, but now the information is becoming more robust. The availability of external data (such as supply/demand maps of specialized labor pools in a particular geography) makes it easier and more cost-effective to educate the business on hiring feasibility thereby enabling hiring managers to open up job specs or consider other source options.
Market Research: More HR people are harnessing market intelligence—salary surveys, employer rating sites—to better target and recruit talent by positioning their own employee value proposition in the market to appeal to what the target talent pool is looking for in an employer.
Specialize More than You Already Do: A lesson from recruiting agencies across the nation. Many companies are now dividing their recruitment team into groups of functional experts, technology recruiters, college-hiring recruiters, and executive recruiters.
Find an Experienced Research Person and Sourcer: The biggest mistake made is to view the sourcer role as an entry-level role with a career path into HR or recruiting. With new tools and specialties, it is becoming more important to find someone who knows what they're doing.
2. SOCIAL MEDIA BECOMING #1 SOURCE FOR QUALITY HIRES
The biggest shift in recruiting in the US has been the four-year growth of social professional networks to become the top source of quality hires. The Numbers don't lie:
Social Networks: 46%
Employee referral programs: 44%
Company career sites 43%
Internet job boards 40%
Internal hires 27%
How to Prepare
Find and Use Effectively a Hiring Manager Social Network: Why not engage clients on personal levels or promote through a company page? There are many tools available, like Sendible and Wisestep, which can simplify your candidate outreach effort.
Online Recruiting Events: By having the line management team become more active in recruitment events such as webinars and/or other media such as Google Hangouts, recruiters are better able to engage passive candidates who may be eager to be a part of the cool work being done in that manager's department.
3. US COMPANIES MORE LIKELY TO RECRUIT PASSIVE TALENT THAN GLOBAL COUNTERPARTS
75% of professionals identify themselves as passive candidates and recruiters in the US have taken note of that. The US has become one of the leading countries in the world when it comes to recruiting passive talent, with 72% of American talent acquisition leaders saying that this is a top priority for them. Note that there is only one country more likely than the US to focus on passive talent
China: 83%
United States: 72%
India: 69%
Spain: 68%
Brazil: 67%
Please note that the Global Average falls at 61%.
How to Prepare
Build Relationships with Passive Candidates Before You Need to Hire Them: Be proactive. Use LinkedIn, Indeed, niche sites, and cold calling to build a ready pipeline of candidates for now and into the future.
Pro Tip: Recruiters have one of the best bases of passive talent. For more information, read our popular post: Why working with recruiters is common sense.
Get Social: Many organizations are learning how to better use social listening and engagement tools with incredible precision to build relationships with passive candidates using content other than just pushing jobs out to the social network.
4. US COMPANIES BETTER THAN GLOBAL COUNTERPARTS AT BUILDING AN EMPLOYER BRAND, BUT NOT THE BEST
US recruiting leaders have some catching up to do when it comes to properly funding and measuring their talent brand. A strong talent brand reduces cost per hire by up to 50% and lowers turnover rates by 28%.
How to Prepare
Implement a Documented Marketing and Sales Process: By identifying targets, collecting information about contacts, prospects, and "closes," this practice allows recruiting leaders to see who is getting results and benchmark the activities of others to improve their results.
Adopt and Follow a Standardized Process
Support this Effort with Marketing and Branding
Track Activity and Results using a CRM Platform
Let Marketing Write the Job Descriptions: Let's face it, job descriptions are generally boring, and companies often fail to write anything to engage candidates. This practice is a response to both a tightening job market as well as recognition of the need to better "sell" opportunities. It's harder to engage talent, and if you can tap into a department with the writing skills and budget to support your recruiting efforts.
Get Ready
Don't let 2015 leave you falling behind competitors. The Overture Group has been helping clients make the most of their recruiting strategies and can help you meet the recruiting needs in 2015. Contact us to see how we can augment your HR strategy with the right talent.
---