The Undying Quest for Passive Candidates & Tips to Sourcing
December 9, 2014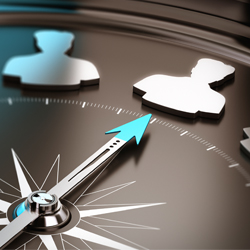 We've been talking a lot recently about the shift of power from organizations to that of candidates. With the increases in hiring, the demand for the right pieces for organizations is outpacing the supply. This means that job seekers are able to make decisions on their terms, leveraging offers and seeking their own 'perfect fit.'
Something that has not happened for over a decade, the second war for talent will undoubtedly require organizations to hire smarter in order to acquire the top talent for their organization. Today, we'd like to focus on the one type of candidate that's hiding from you.
This candidate makes up anywhere from 75% for most, and 90% for high-demand positions. This candidate—the passive candidate—is satisfied with his or her job, but will move only when the price is right.
The passive candidate could be anyone:
Who isn't even thinking about looking,
Who is thinking about looking, or
Who is starting to look
Passive candidates are desirable because, since they are content in their work, they are valuable assets to their current employers. Their lack of urgency for a new job means they are less likely to be interviewing with other companies, which means less competition for you. It is also unlikely that they will lie or stretch the truth about their skills on their resumes; they don't feel like they need to because you reached out to them first.
So, how can you develop a strategy to start turning passive candidates into actively pursuing employment at your organization? Start with knowing what they're looking for.
What Are Passive Candidates Looking for?
Least and Most Important Factors in Pursuing a Passive Candidate

Most Important

Least Important

1. Better Compensation

1. Improved Job Title

2. Better Work Life Balance

2. Better Commute

3. Greater Opportunities for Advancement

3. Increased Job Security

4. More Challenging Work

4. Stronger Relationship with Manager

5. Better Fit for Skillset

5. More Impactful Role
The aforementioned desires are part of the LinkedIn Talent Trends Report 2014.
Eight Tenets of Sourcing Passive Candidates
Of course, when you compare active and passive candidates, both seek more money, better opportunities for advancement, a better fit for skillset, and more challenging work. The difference is, you have to sell passive candidates on other benefits.
Therefore, we'd like to share ten tips to find passive candidates and convince them to join your organization:
Build a Strong Employer Brand: Promote yourself as a great place to work
Amp Up Your Social Presence: Develop a culture and careers page. Share how great it is to work at your company.
Tailor Your Job Postings: You want to be able to catch the eye of someone who is just perusing, and convince him or her to apply.
Perfect your Employee Referral Program: Your employees have always been a good source for talent.
Develop an Elevator Pitch: Know how to create interest for the person you're calling within 30 seconds to 3 minutes. If you're cold calling, you need to get these people interested in this before they hang up. Know the balance between being a subject matter expert and being too salesy.
Review your Former Applicants: Need someone with 9 years of experience in [skill]? See who had a few less years of experience when they applied in 2012.
Content Recruiting: Content marketing has been a big trend for years, now start content recruiting. Blog about culture, and be sure to push out these blogs through email and social profiles.
Find and Use Effectively a Hiring Manager Social Network: Why not engage clients on personal levels or promote through a company page? There are many tools available, like Sendible and Wisestep, which can simplify your candidate outreach effort.
The One Secret to Finding Passive Candidates Faster
If you really want to find passive candidates faster, seek out a partner who knows where to look.
Passive candidates are hiding in plain sight, and are immensely valuable to your organization. Part of being a strong recruiter is the opportunity to develop deep networks of passive candidates.
The Overture Group, as a leading retained and contingent executive search organization, has a vast network of qualified individuals who you may not even know exist. We ensure, through our twenty-four step process, that the candidate is right for your organization.
Contact us today to learn how you can find the candidates you need, when you need them.
---