Improving Company Performance with a CFO & CSO Partnership
September 1, 2015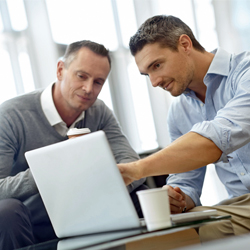 Improving a company's performance and promising growth every year is a lot for any c-suite executive to take on. Making key decisions that will help your company face short-term and long-term obstacles will require much more than a chief strategy officer (CSO) alone.
Understanding the various roles that CFOs take on frequently intertwines with the CSO's responsibilities. In many cases, the CFO will even manage the CSO to make key decisions in resource-allocation plans. Two-thirds of all executives also agree that the best way for CFOs to ensure their company's success is to spend more time on strategy.
Here are 3 ways a CFO and CSO partnership can be the perfect balance for a company's strategy.
Plan a Better Strategy for Mergers and Acquisitions (M&A)
CFOs are used to developing a strategy based on markets that are doing well in order to expand new markets and drive growth. However, CFOs who fail to look outside the box and only see projections based on their own company's performance will notice a stunt in growth.
The CSO can help the CFO look outside of the company with better insights on the organization's trend forecasting and competitor-analysis function. With the CSO's proprietary view on business growth and insight in corporate-strategy decisions paired with the CFO's knowledge on analytical data makes for a better acquisition and divestment strategy.
Linking Better Resource Allocation and Corporate Strategy
Research done by McKinsey & Company's colleagues finds that companies allocate 90 percent or more of their resources to the same projects and activities year after year. The issue with allocating capital to the same resources is that growth remains stagnant as it did the year before. According to McKinsey & Company, developing a successful corporate-strategy-development process between finance and strategy will:
Create a distinct corporate- or portfolio-strategy process instead of a business-unit plan
Encourage more frequent conversations among small groups of senior leaders on an ongoing basis, instead of annually or ever three to five years
Ensure a fully integrated corporate-strategy and budgeting process with capital-allocation processes including M&A and divestment.
Carefully allocating funds to the right resources is done successfully when the CFO and CSO work together to reallocate resources for a less volatile annual return to shareholders and faster growth in investments.
Balancing the Long-term and Short-term Strategies
The CSO's deep understanding of regulations, innovation, and the microeconomic industry trends complements the CFO's knowledge of capital allocation, stakeholder issues, and cost of revenue really well.
When paired together, the CFO and CSO can improve a company's short-term earnings with long-term growth to benefit the board, management, and investors.
It's clear that any partnership between c-suite executives can be very beneficial to an organization's goals. However, it's the partnership between the CFO and CSO that proves to be beneficial to any organization looking to grow and overcome common financial obstacles.
As an organization that values things like teamwork, collaboration, and organizational trust; what can you do to help foster a culture based on teamwork?
To learn more on, click the link to the related article: how to build a healthy workspace culture.
Please contact us to learn more about finding the right talent to support team and organization growth.
---