Are You Moving Too Slow for Your Candidates?
December 2, 2014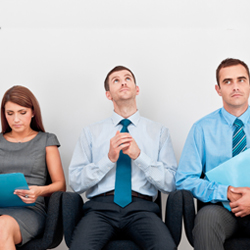 Many have said, "Hire slow, fire fast." This is a great statement, promoting deliberation and in-depth decision making within your organization. However, there is an epidemic among hiring organizations—hiring too slow. There have been horror stories of four, if not five interview rounds to make sure the organization has gotten it right. These horror stories don't happen to be for top level positions either. Competition is increasing for qualified candidates, and these prospects are realizing that they have multiple options in the marketplace.
According to ERE, when candidates have multiple options and offers, slow hiring will mean that you will lose up to 70 percent of candidates who have other offers.
Death by Interview
Something referred to as "Death by Interview" by TLNT contributor Dr. John Sullivan, this term is used to describe the drawn out pain that job applicants suffer as a result of requiring an excessive number of interviews, repeating the same questions across multiple interviews, and the unnecessary uncertainty that is part of most interview processes. Before delving deeper into the death by interview, let's look at three reasons you think you need four or more rounds of interviews:
1. You're calling the wrong people: Maybe you got burned in the past, so you just want to make sure the candidate isn't going to be bad by interviewing everyone extensively. So, you call everyone (read B-level candidates) who puts their resume in.
2. Asking the Wrong Questions from the Beginning: In one of our whitepapers, we discuss the value of executive and management assessments in the interview process. Questions asked in an interview often reveal little more than a candidate's 'likeability' or what they might hypothetically do in a given situation. Executive assessments add to the effectiveness of this process by building out the 'behavioral/competency' interview questions that highlight specific candidate tendencies and how these may impact their actions in a particular situation.
3. Your Application Process is Flawed: Just as in our past articles, we shared how poorly designed job description writing and flawed application process can cause you to lose candidates, it is possible that you weren't getting the right information in the first place. Read more on saving your application process by easing pain points.
Not only does slow hiring and indecision harm your chances to land a candidate, it hurts your employer brand and pipeline. In this modern world, people talk. If you look at your company profile on Glassdoor, those candidates that you led through four, five, or six rounds of interviews will definitely lambast your interview process. This isn't all. It costs money, makes your organization appear unorganized, ultimately leading to a smaller pipeline for future positions—a dangerous cycle in which to get trapped.
"Slow Moving Organization -> Fewer Quality Hires -> Less Trust in Hiring Skills -> More Interviews -> Slower Moving Organization"
For more information on how slow hiring is killing your organization, ERE also provided 12 ways that it damages your business processes. This isn't about just one hire. This is about your entire recruiting strategy. If you need five rounds of interviews because you can't trust your gut, maybe it's time to admit you have a problem. If you're grinding down all these "B" candidates, it means you haven't found an "A" candidate. These "A" Candidates are rarely the ones applying for your job—especially for the top-level positions. In our article, "why working with recruiters is common sense," we mention the value of the passive candidate. The war for talent will be fought not only for inbound applicants, but for those passive candidates that you don't even know exist. Next week, we will share with you the importance of passive candidates and how to find them. Sometimes the war for talent can take a toll on you. Sometimes you need reinforcements. At The Overture Group, our methodology helps bring you only the candidates you want to see—fast. This means fewer interviews and more confidence in your hiring process.
Contact us today to see how we can place the must-fill positions sooner than later.
---