Is Your Resume Failing the Skim Test?
February 4, 2014
It is estimated that the average recruiter spends just 6 seconds looking over a resume and a typical job opening in the corporate setting will receive about 250 resumes. This means you have very little time to stand out against a whole lot of competition.
Therefore, you need to make every word on your resume count.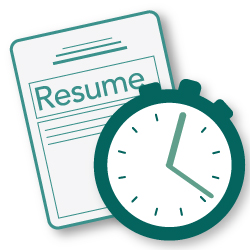 Your goal is to provide an actionable document that is easily read and offers an effective summary of your skills, but how can you do this and ensure you always pass the "skim test?" We look at the top tips and advice from CareerBuilder's recent survey of hiring managers.
Below, we outline what words you should use (or lose) while drafting or updating your resume.
The Worst Resume Terms
The following terms are résumé turn-offs as selected by respondents:
1. Best of breed: 38 percent
2. Go-getter: 27 percent
3. Think outside of the box: 26 percent
4. Synergy: 22 percent
5. Go-to person: 22 percent
6. Thought leadership: 16 percent
7. Value add: 16 percent
8. Results-driven: 16 percent
9. Team player: 15 percent
10. Bottom-line: 14 percent
11. Hard worker: 13 percent
12. Strategic thinker: 12 percent
13. Dynamic: 12 percent
14. Self-motivated: 12 percent
15. Detail-oriented: 11 percent
16. Proactively: 11 percent
17. Track record: 10 percent
The Best Resume Terms
There are, however, several strong verbs and terms candidates can use to help describe their experience. The following are terms employers would like to see on a résumé:
1. Achieved: 52 percent
2. Improved: 48 percent
3. Trained/Mentored: 47 percent
4. Managed: 44 percent
5. Created: 43 percent
6. Resolved: 40 percent
7. Volunteered: 35 percent
8. Influenced: 29 percent
9. Increased/Decreased: 28 percent
10. Ideas: 27 percent
11. Negotiated: 25 percent
12. Launched: 24 percent
13. Revenue/Profits: 23 percent
14. Under budget: 16 percent
15. Won: 13 percent
It should not come as a surprise that hiring managers appear to prefer strong action words, which demonstrate impact and results including achieved, improved, and trained. More wishy-washy descriptor words such as best of breed and go-getter were ranked high on the "do not use" list.
"Subjective terms and clichés are seen as negative because they don't convey real information," said Rosemary Haefner, vice president of human resources at CareerBuilder, in a press release about the survey. "For instance, don't say you are 'results-driven'; show the employer your actual results."
The CareerBuilder survey was conducted online within the U.S. by Harris Poll on behalf of CareerBuilder among 2,201 hiring managers and HR professionals between Nov. 6 and Dec. 2, 2013. With a pure probability sample of 2,201, one could say with a 95 percent probability that the overall results have a sampling error of +/-2.09 percentage points.
The Overture Group is an executive search and interim staffing firm that specializes in matching top candidates with top jobs. We pride ourselves in experience, knowledge, leadership, and partnership; amassing a top team of top search consultants to assist candidates and clients in finding that "perfect fit." Contact us to see what services we can provide to you.
---