Year-End Bonuses Impact the Hiring Process
November 20, 2018
Companies looking to hire at the end of the year need to face the fact that many currently employed candidates have earned bonuses that will be paid out between December 31st and March 31st. Most companies with executive and key leadership hiring needs do not have the luxury of waiting a few months to begin searching for new leaders.
Candidates looking to make a job change don't want to lose a substantial amount of money so close to a payout, but also don't wish to miss a great long-term opportunity.
Candidates and companies should both carefully consider the following recommendations.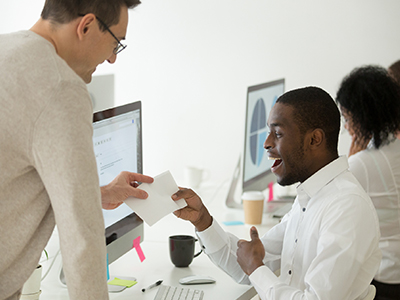 Companies should assess their potential candidate pool before every search. During searches near the end of the year, they need to estimate the likelihood of potential candidates receiving a bonus. In 2018, unemployment is low, companies are profitable, and the fight to retain top talent is a priority, so we have seen the great majority of potential candidates indicating they are expecting a bonus. Since companies' compensation philosophies differ, there will be a wide variance from candidate to candidate. We see C-suite executives in the middle market frequently receiving 50% of base pay and it is not uncommon to see 75%-100% in this market. The target bonus for leadership positions reporting into the C-suite are typically half of that received by their supervisors.
Candidates who are ready for a change need to find out the details of their bonus and be ready to share the details with recruiters and hiring companies. It is essential for hiring managers to understand your plan and what it could pay out. Another key element to understand and communicate, is when the bonus will pay and whether you need to be presently employed to receive the distribution. Some plans just require you be employed during the preceding year while others require you to be employed the day it pays out. Once you know the facts about your bonus, you need to determine what it will take to get you to leave your present position. Answering that question is a complicated process (that can take up a whole blog post!), and includes quantifying all the non-compensation related motivations for making a change.
Both candidates and companies need to be open to negotiating around the compensation a potential hire could be leaving behind. Companies that address the issue early on are most likely to find a solution that works for both parties. They should first address it from the high level before interviewing, when a recruiter or hiring manager is determining a compensation fit between the candidate and company. The methods to overcome a bonus obstacle vary based on the size and timing of the bonus. Some potential solutions include offering a signing bonus, an additional bonus paid after the candidate starts, a one-time increase in the first year's target bonus, etc. The biggest factor to success for both parties is a willingness to reach an agreement that ultimately makes both sides excited about that candidate joining the team.
---