Why CFOs & Senior Finance Executives Should Adopt Analytics
November 10, 2015
As we enter into the New Year, new statistics and trends show the adoption of analytics will double for CFOs and Senior Finance Executives.
According to IBM's Center for Applied Insights (IBMCAI), 337 finance executives and CFOs were polled and it turns out, the vast majority of Finance Executives want to involve more analytics and data into the way they do business.
Here are the numbers IBMCAI came up with:
Management reporting: 40% now, 44% within 2 years
Profitability and margin analysis: 37% now, 46% within 2 years
Financial planning: 35% now, 48% within 2 years
Expense management: 34% now, 47% within 2 years
Revenue forecasting: 34% now, 48% within 2 years
Procurement: 32% now, 38% within 2 years
Cash forecasting: 29% now, 48% within 2 years
Order-to-cash: 24% now, 46% within 2 years
Finance process optimization: 21% now, 52% within 2 years
Mergers and acquisitions: 18% now, 32% within 2 years
Looking at those numbers, something interesting emerges; while every area shows a growth in adoption over the next few years, we see huge surges on finance process optimization, cash forecasting, and order-to-cash. This suggests many see a grand opportunity to capitalize on applied analytics in these areas, which perhaps they did not before.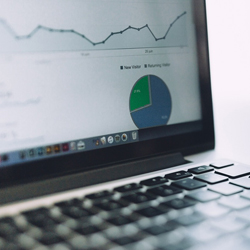 The numbers also suggest the possibility that around 40% of firms, which have already adopted some level of applied analytics and been satisfied with the results are looking to expand their adoption to a wider array of areas. A theory further strengthened by IBM's look at the top performers within their survey.
The 28%
As they looked at the numbers, IBM identified an upper echelon of performers — 28% of the CFOs and Senior Financial Executives polled were most holistically effective across the 10 previously mentioned finance activities. A few things immediately popped.
First and foremost, this group showed much broader adoption of analytics and an increased rate of revenue growth and profitability — 1.4x more and 1.7x more on each respectively, compared to all others in the survey group.
What became truly interesting about this group were the numbers outside of finance. It showed that within the organizations these leaders worked for, the adoption of analytics outside of finance were drastically increased: 2.6x as much supply chain analytics adoption as all-others group, 2.5x the rate of workforce analytics adoption, 2.3x the rate of enterprise risk management adoptions, etc.
The Conclusion is Clear
The best finance organizations are taking analytics seriously, and they're not working alone.
IBM identified three traits as correlating with success in their study
Investing in analytics more consistently across their business
Collaboration across the C-suite
Utilization of advanced tools for superior analytics delivery
These leaders also leaned more into predictive and prescriptive analytics than their less effective peers.
The Overture Group draws on its vast network and expertise – from pre-search preparation through post-placement transition – to find and fit the right professionals in finance, accounting, human resources, operations and technology. Please contact us for more information!
---