What's on Your Bookshelf? Top CEOs Share Favorite Books
October 14, 2014
If you're looking for a deeper look into your improving your leadership, look no further than the books that the strongest leaders of the day read.
CEOs take leadership advice from many different sources, but always can turn these literary works into lessons to better lead their companies.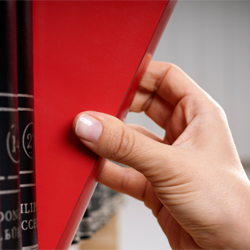 Thanks to Domo, CEO.com, and Entrepreneur Magazine, we would like to share with you an infographic that may change not only your reading preferences, but also leadership style. So put down whatever you're reading and pick up a copy of one of these great books.
The infographic below shows the favorite books of Marissa Mayer (Yahoo), Jack Dorsey (Square/Twitter), Richard Branson (Virgin), Elon Musk (SpaceX/Tesla), James Gorman (Morgan Stanley), Jamie Dimon (JP Morgan), Meg Whitman (Hewlett-Packard), Larry Page (Google), Ken Powell (General Mills), Randall Stephenson (AT&T), Marillyn Hewson (Lockheed Martin), Mark Zuckerberg (Facebook), Muhtar Kent (Coca-Cola), Jim Quigley (Deloitte), Tony Hsieh (Zappos), Josh James (Domo), Warren Buffett (Berkshire Hathaway), Bill Gates (Microsoft), Larry Ellison (Oracle), Tim Cook and Steve Jobs (Apple), and Jeff Bezos (Amazon).
From the fantastical, like Hitchhiker's Guide to the Galaxy to the Classical like The Aeneid, these leaders have adopted both unique reading styles and a unique leadership styles. So, we must ask, What's on Your Bookshelf?
Additional Recommendations from The Overture Group:
The 48 Laws of Power –Robert Greene
The Prince –Niccolo Machiavelli
The Art of War –Sun Tzu
The Truth About Leadership –James M. Kouzes and Barry Z. Posner
How to Win Friends and Influence People –Dale Carnegie
So there you have it, a good start for any aspiring leader looking to make his or her mark within the company or industry.
Even if you don't read these books, it is important that you read something. One of our traits of highly successful people, reading anything from the news (not tabloids) to the books above will improve your knowledge and conversation skills. We welcome you to share your favorite books on leadership in the comments below.
Comments are closed.
---