What Does it Take to Make the Jump from CFO to CEO?
May 26, 2015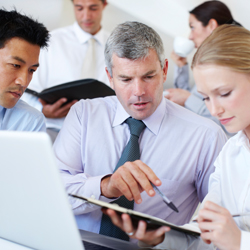 Not all CFOs aspire to be a CEO in their future career move, and not all who aspire achieve, but among those CEOs leading Forbes Global 2000 companies in 2015, 13% have come from the CFO role, and 18% have come from senior finance positions.
Although the increase from prior years is small, financial leadership is finding a seat at the top at a higher pace in the Forbes 500—18% coming from CFO and 23% from senior finance roles, compared to 12% and 17% in Forbes 501-2000, respectively.
This, according to a new report, which discovered a slow but steady increase of financial leadership making the jump to executive leadership.
But what does it really take to make the jump from CFO to CEO if one feels so inclined? Much more than financial knowledge.
Making the Jump: The Right and Left Brain Theory
According to a whitepaper from the Human Capital Institute, there are four areas that define top CEOs: driving growth, managing crises, developing strategies, and managing finances. These are areas where the CFO shines.
CFOs looking to advance their career into a CEO position will have to possess more than just those four skills.
CFOs looking to make the jump must be able to use both sides of the brain to come up with creative solutions to problems, think on their feet, and work with people.
Simply put, the CFO turned CEO must possess all of these skills and traits to thrive:
Right-Brain Skills of the CEO
Outside-in thinking
Courageous
Optimistic
Social and people skills
Strong learning agility
Left-Brain Skills of the CFO
Driving growth
Managing crisis
Financial acumen
Strategic skills
And no matter the balance, one trait spans both sides. That trait is learning agility. This is defined in the report as "the willingness and ability to apply lessons learned from past experiences to new and first-time situations and challenges. (In other words, it's knowing what to do when you don't know what to do)."
An Introduction to the Relationship Map
It's important to keep in mind that most CFOs are not interested in becoming CEOs, but for those who feel they can succeed in an even broader leadership role will have to acquire the interpersonal skills needed to maintain the following relationships on the Relationship Map.
The Relationship Map is really useful for any C-suite executive since maintaining these corporate relationships is beneficial to the executive and the company as a whole. You will notice that the CFO or any executive will need to work closely with other executives internally (HR operations, IT sales), as we as externally with people outside of the company (lawyers, auditors, bankers, other advisors).
Final Thoughts
Of course, if a CFO plans to become a CEO, it is very important for the CFO to improve and maintain the relationship with who they report to like the CEO, Board and Investors.
This comes down to adapting an "all-in" intensity that transcends job functions.
Develop both sides of the brain, work well with others, develop learning agility, and if you so choose to ascend from finance to executive roles, you will be on the way.
---