Using Executive Assessments to Find the Right Cultural Fit
December 3, 2013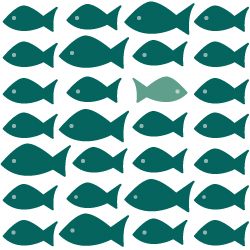 When looking over a candidate's resume, an HR manager can instantly know his or her qualifications, certifications, years of experience, and work history. However, is there any way to look over candidates on paper and know how they will fit into your company's culture?
"Technical Fit" vs "Cultural Fit"
When hiring an executive, there are two kinds of fit – the candidate's technical fit for the job and the fit for the organization's culture. Because technical skills can be learned and further developed, it is the cultural fit that will ultimately have the most impact on a candidate's long-term success.
More often than not, the success or failure of a newly hired executive is related to an incompatibility with the organizations culture rather than a lack of ability or relevant experience.
Especially when placing candidates into senior-level roles, it's crucial that they understand and embody the company culture to make their transition into the organization as seamless as possible.
This is where the hiring process can get tricky and we again ask the question "how do we know if the candidate will fit into the organization?" In interviews, HR managers ask questions and observe candidates' behavior when everyone is generally on their best behavior. They also check references and hope that they can get enough information about a candidate's past performance to find something unseen in the interview itself. The piece that is missing here is that this method of assessment is subjective and does not give an organization a sense of how a candidate will operate in ongoing business situations in that culture. This may explain why so many executives fail within the first year or two of employment.
Executive assessments provide valuable insight into how someone responds to pressure, if he or she is collaborative or domineering, directive or casual in leadership style. They are not new to the hiring process and identify key characteristics in candidates that may cause them to succeed or fail within a given organization including leadership skills, decision-making, interpersonal style and delegation. This additional information brings more value to the entire selection process, including insights into candidate cultural fit, on-boarding and development needs. As new hires come through the door, organizations have a better handle on where the individuals will be successful and what needs to be done to support their ongoing success. Some companies use the assessment with new executives or key managers as a reference or coaching tool.
For more information on utilizing executive assessments in your hiring process, download The Overture Group's complete whitepaper, The Value of Executive Assessments in the Hiring Process, for free here.
---