What's the Line Between Recruiting & Social Media Usage?
September 4, 2018
It has been well known throughout the professional community for a number of years that LinkedIn is the true hub for enterprise networking. Recruiters leverage the platform to identify, contact and determine active and passive candidates' levels of interest in particular career opportunities. It is an equally valuable tool for candidates to research companies, potential leaders and peers, and truly leverage their networks to position their next career moves. As younger generations enter the workforce, will LinkedIn's powerful influence continue, or will these activities shift to other social platforms?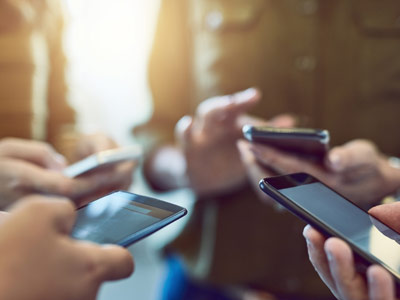 Beyond LinkedIn
Over the last few years, social media platforms have proliferated. The following platforms have traditionally been applied to personal use, but all have potential professional implications:
Facebook Identify users' professions and contact individuals directly
Instagram Depending on settings, potentially view posts and contact users
Twitter Depending on settings, follow and message users
Snap Chat Direct messaging only available between connections
Pinterest
New professional social platforms are gaining in popularity, including the following examples:
About.me
Meetup.com
Vizualize.me
Shapr.co
Are these sites and apps different due to their primary association with professionals, or are they just another social media black hole that can consume us, unless it is ignored? I often wonder if it would be easier to combine their myriad features into a single tool with personalized restrictions that align with each individual's comfort level.
Testing the Boundaries
Where do recruiters and hiring managers draw the line when it comes to selecting relevant and appropriate platforms for information gathering?
I truly feel it depends on the candidate, their employment status or potential career mobility level. In a world besieged by hackers, scammers and just plain-old-creepers, many people are turned off by the suggestion that recruiters and employers leverage these platforms.
Right to Privacy
When does background research become an infringement on a candidate's privacy? Different work cultures set different standards. Is sending a private message on Facebook to inquire about interest in making a career change too personal? Maybe it's not that different from target marketing. Have you Googled a product or service and been presented with an ad the next time you logged into Facebook? This can be seen as an extension of a similar principle.
Questions Without Clear-Cut Answers
Each recruiter will have to draw a line for themselves and their institution. These differences of opinion, the freedom of choice, is what makes our nation so great.
I have been working in the human resources and recruiting field for over twenty years, and witnessed a number of changes. My perspective is only one of many. There is no definitive right or wrong strategy, and no "most effective" or "least effective" tool. As long as we can all agree to maintain a professional approach, various social media platforms can be leveraged to ensure that all businesses and candidates continue to grow in their mutual and individual pursuits.
---