The Overture Group Passes Five-Year Milestone
July 7, 2015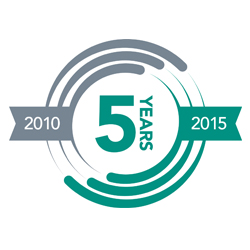 Lisle, IL – August 1, 2015 – The Overture Group celebrates its 5 year anniversary this month. "We're thrilled to have reached our five year anniversary and we're thankful to have partnered with a wide range of wonderful clients. We have a passion for getting to know our client's business to deliver excellence from pre-search preparation through post-placement transition", says Bob Lindeman, Managing Director.
In 2010, Overture's Managing Directors, Brandi Adam Mueller, Bob Lindeman, and John Liacone, broke off from the nation's fifth largest accounting and consulting firm to form their own executive recruiting firm. With offices in Illinois and Iowa, The Overture Group has expanded to become one of the leading search and interim staffing firms in the Midwest.
The Overture Group specializes in assisting clients find the right executive to fill key roles in finance, accounting, human resources, operations and technology. The Overture Group partners with mid-size companies providing superior leadership and resources to their organization. The Overture Group draws on its vast network and expertise to find the right professionals.
The Overture Group's goal is to ensure long-term success for the candidates and the company. As the company celebrates another milestone, its staff will continue to offer the most current recruiting and management methodologies to ensure a smooth hiring transition for both the company and the candidate.
###
About The Overture Group
The Overture Group is a premier Midwest professional/executive search and placement firm headquartered in Lisle, IL with an additional office in Cedar Rapids, IA. The company is a member of the American Institute of CPA's (AICPA), Financial Executives International (FEI), Illinois Manufacturers Association (IMA), Society of Human Resources Management (SHRM), The Private Director's Association (PDA), The National Association of Corporate Directors (NACD), Vistage, and CFO Leadership Group (CFOLG).
For more information, please call 630-352-4029, visit their website at: theoverturegroup.com.
---