Overture Group Opens New Office in Cedar Rapids
November 5, 2013
The Overture Group has announced that it has opened a new office in downtown Cedar Rapids.
The new office will continue to serve the small and mid-sized companies based in Iowa, focusing on manufacturing and distribution, financial services and healthcare, and professional services firms.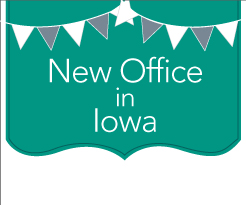 The firm has had a presence in Cedar Rapids since July 2010 so the decision to move into a new office seemed like a natural progression after opening an office in Michigan this past May. The Overture Group will continue to fit executives and managers in finance, accounting, HR, operations and technology, often with privately held companies.
Brandi Adam Mueller, Managing Director with The Overture Group who works out of the company's Cedar Rapids, Iowa location notes the budding growth in the Cedar Rapids area and is excited to continue expanding in these industries from the new office.
"We're thrilled to continue our presence in Cedar Rapids. Our new office will allow us to be accessible to the community and help establish The Overture Group as the premier Midwest executive search firm." said Mueller,
Mueller is one of the founders of The Overture Group and brings more than 13 years of experience in executive search. She sits on the Young Parents Network Board of Directors and is a member of Daybreak Rotary. Iowa-based companies looking to retain Mueller, or executives in search of a new position can connect with her through LinkedIn or via email at: bmueller@theoverturegroup.com, or by calling her direct line at 319.366.3688.
The Overture Group's new office is located at 425 Second Street SE, Suite 1225.
---