The Overture Group Named One of the Coolest Places to Work
December 8, 2015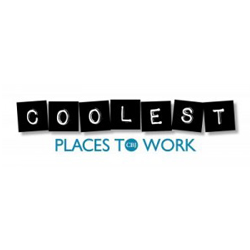 For the past 4 years companies throughout the Cedar Rapids-Iowa City Corridor have competed for the honor of being named Coolest Place to Work in Iowa's Creative Corridor. The Coolest Places to Work identifies and honors local companies that have created the most engaging and rewarding work environments. Premiering for 2016, The Overture Group (TOG) finished second in the small business (less than 20 employees) category.
What makes TOG cool? Brandi Mueller, Managing Director says "We have the opportunity to work with organizations across Iowa and the Midwest. Our clients put their trust in our team to deliver the best talent for their organizations. We are mindful of candidates' skill sets, the culture fit, and our candidates' commitment to the success of the company."
"I love this team because we are passionate about delivering high quality services and making a difference. It is a delicate dance we do; presenting to someone why they should leave one job to go to another. It has to be the right fit for everyone. We find joy in creating win-win situations – for our clients, candidates, and The Overture Group!"
"We have a culture that is fun, family friendly, flexible, and fast paced. We care about our clients and our reputation. We have integrity and we are proud. We have unparalleled delivery and service. We are not ok being average. We always strive to be the best at what we do. Constantly looking for the needle in the haystack. TOG is tenacious and determined", added Mueller.
View the team's video nomination:
The Corridor Business Journal's fourth annual Coolest Place to Work event recognized 24 companies in the Corridor. More than 325 business leaders and employees attended the awards reception, held June 16 at the DoubleTree by Hilton in downtown Cedar Rapids.
---