The Overture Group Co-Founder Awarded "Women of Influence"
February 10, 2015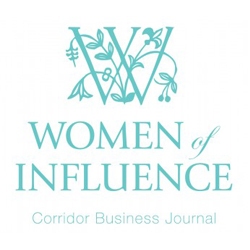 Another day, another recognition for one of The Overture Group's co-founders. Now the managing director of our Cedar Rapids, Iowa location,
Brandi Adam Mueller recently cemented her status as an outstanding business leader in Iowa with her recent induction to the Corridor Business Journal's Women of Influence 2015 list.
Since leading the opening of The Overture Group's Cedar Rapids, Iowa location in 2013, Ms. Mueller has taken her experience and business knowledge to Iowa's corridor, building her own name and that of The Overture Group through her induction to this list as well as being named to the Leadership Iowa Class of 2014-15.
We are pleased to share this news with you, and welcome you to learn more about this prestigious award only given to ten women per year.
About the Corridor Business Journal Women of Influence Award
The Women of Influence Award is given to women who have made a difference in the Iowa City/Cedar Rapids Corridor and who are representative role models as leaders in their fields and communities. Nominations will be taken at the beginning of the year, and honorees will be chosen by the previous year's honorees. A reception to provide networking opportunities will be followed by a dinner and awards ceremony. The awards ceremony will honor influential women and provide honorees with an opportunity to share their stories.
2015 Women of Influence Honorees
Mary Lou Erlacher, Workplace Learning Connection
Sarah Fisher Gardial, UI Tippie College of Business
Jane Hagedorn, Bea Day Plumbers Inc.
Sondra Harney, MidWestOneBank
Hilery Livengood, United Way of East Central Iowa
Mollie Marti, National Resilience Institute
Brandi Mueller, The Overture Group
Becci Reedus, The Crisis Center
Debra Schwinn, UI Carver College of Medicine
Susan Shullaw, Susan Shullaw & Associates
Women of Influence 2015 Awards Ceremony
Ms. Mueller joins nine other leading businesswomen who will be honored at an awards ceremony to be held on March 12, 2015 from 4:30 to 8:30 pm at the DoubleTree by Hilton in Cedar Rapids, Iowa. The winners will further appear in a March 23 Corridor Business Journal issue highlighting their achievements.
Registrations for the award ceremony are now open, and those interested can register.
Iowa-based companies looking to retain Mueller, or executives in search of a new position can connect with her through LinkedIn or via email at: bmueller@theoverturegroup.com, or by calling her direct line at 319.366.3688.
---