New Report Shares the Pulse of the Illinois Middle Market
May 8, 2015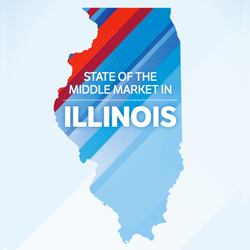 With such a huge focus on both ends of the business spectrum—established enterprises and fast-growing startups—many in Illinois fail to realize one of the most important pieces of the economy, responsible for 31% of employees in the state.
The middle market, consisting of companies making $10 million to $1 billion per year, is the key segment behind growth and competitiveness in the state and the U.S. as a whole.
As we continue to rebound as a nation, it is important to gain the opinions, outlooks, and desires of all businesses. This is why a new report released by the National Center for the Middle Market has been created to gauge the confidence and outlook of middle market businesses in Illinois.
How have they fared? What do they need? What can Illinois expect from this sector? The full report shares all, but here are our key findings:
Businesses Staying in Illinois, but Lack Confidence in State and Local Economy
Considering the confidence in the state economy—24 percent—many businesses are staying in Illinois. As they look for new ways to source qualified candidates from a decreasing population, nearly four fifths are staying in Illinois due to their local history in the state.
What will keep businesses in the state and boost long-term confidence in the economy? Certainty. With an astounding 82% unsure of how actions by the state government will impact the future of business, companies remain cautiously optimistic in the state.
Illinois Taxes and Laws Stifling Growth of Middle Market Companies
With nearly nine out of ten businesses (87%) finding that cost of doing business is a top concern in the growth and confidence of companies in the Illinois middle market, all signs point to tax and regulatory reform as a factor for future business growth.
What can be done? Lower taxes and less complex regulations for corporations and individuals. This could lead to more hiring (27% would invest) and more capital expenditures (38% would invest), furthering long-term growth of the state economy.
With nearly two-thirds supporting lower taxes for corporations and individuals (63% believe lower corporate taxes would benefit businesses, 62% for individuals), even more support one pivotal legislation change—Right to Work.
An astounding 79 percent of middle market businesses want Right to Work in Illinois, with more than three out of five believing that Right to Work legislation has positively impacted Michigan and Indiana economies.
The Companies Hiring Now Have Trouble Finding Qualified Workers
This could go for a business of any size, but finding the right talent is a huge concern. With 43 percent of Illinois businesses looking to add jobs and 65 percent already looking for candidates, middle market businesses in Illinois are seeing the pressure to find candidates quickly.
Noting this, over one-third of companies have three to ten open positions, and 65 percent are finding it difficult to fill even one.
Illinois is in the midst of a fight for top talent, and companies in the middle market must act quickly to find it.
The Overture Group has been long committed to the middle market, and has long been sourcing top talent in Illinois. Through our detailed methodology and extensive network of candidates, we can help you to find and keep the talent you need and deserve. Learn more about how we can help you and contact us for more details.
Download the full State of the Illinois Middle Market Report here.
---