Should You Recruit a Board Member for an Executive Position?
March 24, 2015
Looking to Recruit a Board Member for Your Firm's Executive Position?
The cost of recruiting and hiring executive positions may be high, but making the right decision will be rewarding in the end.
Some firms are turning to their board members to fill executive positions. However, recruiting from a board of directors may not be the best choice for your firm.
Why Recruiting from the Board can Hurt a Company
According to sources in a recent WSJ article, companies are increasingly looking for directors who could potentially become executives. While recruiting from the board of directors may sound like an easy shift, it can actually hurt a company. Specifically, when looking to replace a CFO, many board members lack the financial talent that this position needs. "The situation highlights how recruiting top-notch financial talent can be a tricky business, especially when the logical successor is a board member."
When Hiring Board Members for Executive Positions Has Worked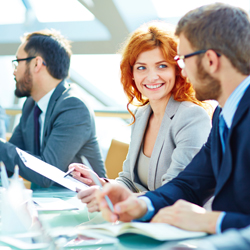 Since Sarbanes-Oxley legislation opened up employment opportunities for CFO's, many retire from their firms and join external boards. It only makes sense for some companies to hire retired executives as new CFOs or CEOs.
Asset-management company Legal & General Investment Management America Inc. didn't have the bench to pick a leader internally, said CEO Robert Moore, who served on the company's board for seven years before being asked to take over in March.
Mr. Moore was CFO at another company and said he wasn't thinking about moving, but as the board was trying to identify a successor, the chairman asked, "Should we have that conversation [about] having you as a candidate?" he recalled.
Final Thoughts
While hiring from a company's board of directors might seem like an effective and inexpensive way to find a CFO or other c-suite executives, it should still require recruiting experts to fill the position. Our recruiting experts at The Overture Group find highly qualified candidates to ensure your firm makes the best possible hiring decision. For more information on how The Overture Group can help you with your search for a new CFO, please visit our homepage or contact us.
Related Articles:
5 Vital Roles a CFO Should Play in Your Business
To Find a CFO, Many Firms Turn to Their Own Board Members
---