Job Seekers: How to Prepare for a Phone Interview
July 24, 2018
During your job search, preparation is the key to everything. It is especially important to be prepared for a phone interview on a moment's notice. Today many employers start the interview process with an initial phone screen to discuss the job opportunity with a potential candidate, determine if they are a good fit, gauge their interest in the position, and determine who will be invited for in-person interviews.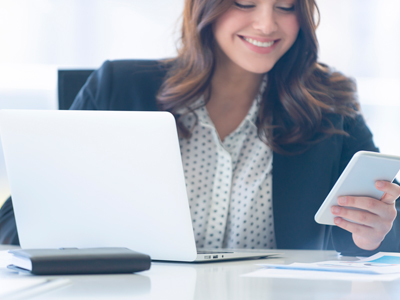 In many cases your interview will be scheduled in advance, by email or phone. In others, you may receive a surprise phone call. You never know when a recruiter or a networking contact might call and ask if you have a few minutes to talk, so always answer the phone professionally, especially if the number is an unfamiliar one. You should also make sure that your outgoing voicemail message is professional.
Phone interviews can be quite challenging. They don't allow you to read a person's body language, eye contact, or display your communications skill effectively. As a result, you want to be sure you are prepared, poised and confident when the time comes.
When you have time to prepare, here are some key ways:
Read the job description and prepare for behavior-related questions. Familiarize yourself with the company's messaging on their website, Facebook page and Twitter page.
Have a quiet place to talk that is free of distractions and allows you to focus.
Stand up! This tends to give a person more confidence.
Listen carefully and do not dominate the conversation. Most candidates sabotage the phone interview by doing too much talking and not enough listening.
Slow down, breath and smile. Your interviewer will pick up on your tone.
Keep a copy of your resume in front of you.
Speak clearly and show enthusiasm!
Have paper and pen available for note-taking.
Dress well! If you look good, you feel good!
Research the interviewer on LinkedIn. Do your homework!
What are the next steps? As the interview wraps up, make sure you understand how the process will continue and whether additional actions are required of you.
End the call on a positive note and send a thank you email.
Phone interviews can be awkward if you're not sure what to expect, and the more uncomfortable you feel, the more trouble you'll have convincing the interviewer you're the right candidate.
Treat the phone interview with the same seriousness and preparation that you would give to an in-person interview. A little preparation can help you shine throughout the entire search process.
---