Job Seeker's Guide to Mastering the Phone Interview
March 3, 2015
The phone interview. Loved by hiring managers, often despised by job seekers, this cost effective and introductory phase of the interview process comes across as the easiest way to narrow down a list of candidates.
This step, the first in the path to your next job, needs to go smoothly.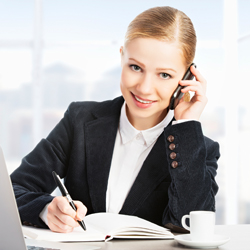 So what can you do to ensure that your hiring manager thinks you're the perfect candidate for a call back and in-person interview? We'd like to share with you a few tips to master phone interviews.
Tip 1: Create an Environment Suited for Phone Interviews
When you get the email asking what time you're available for a phone interview, the first thing you need to consider is the environment in which you will be fielding the call. You need a quiet, well-lit room free of distractions with your resume, cover letter, and notes in front of you.
If you're at home, use a landline if possible, turning off any background noise that could arise. If work at an office, know where you intend to field the call.
Tip 2: Keep Relevant Information
One of the best pieces of advice is to keep a cheat sheet. Your cheat sheet is your study guide for the interview, condensed to cover relevant information and talking points while speaking with the hiring manager. During your research phase, start taking notes including but not limited to the following:
Job Description with Notes on How You Match
Job History
Skills Developed
Your Knowledge of the Company
Questions You May Have. Here's a list of good questions to ask.
Resume
Cover Letter
Critical Talking Points
Answers to Downplay Red Flag Questions
Read each of these multiple times. One of the most off-putting things that a recruiter or hiring manager can face is the uninformed, unprepared, or uncaring candidate.
Tip 3: Stretch, Dress Up, Smile, and Stand if Possible
Psychology meets physiology. Did you know that when you strike power poses before an interview—in person or on the phone—you sound more confident? This minor boost in vocal confidence can make a difference in a call back going further or the dreaded 'thanks but no thanks' email.
Secondly, have you heard the phrase "Dress for the job you want, not the one you have"? This phrase, although not spot on, is beneficial for you. You can project more confidence, even over the phone, if you dress more confidently. Don't have the "I just got out of bed voice."
If you've spent even a brief term in high school theatre or music, you have probably been told to smile when you sing. It works. You sound happier, and studies show it actually makes you happier.
Finally, a simple physiology lesson. You can't project while laying down or slouching. Make the most of your vocal qualities, stand if possible. If you can't stand, sit up straight.
Tip 4: Send a Thank You Email or Letter
Hiring managers and recruiters have many people to call each day. Make yourself memorable by at a minimum sending a thank you email. See our article on the power of thank you and how to send a thank you letter for more information.
Quick Fixes
Of course, there are other short fixes to prepare for phone interviews. If you have a bit of time on your hands, there's a book, The Essential Phone Interview Handbook, that will offer information on how to truly prepare for phone interviews. However, if you're looking for a few short tips in addition to the other three, read on.
Look at a photograph (or LinkedIn Profile Pic) of your interviewer.
Talk less and focus on the points
Tea with lemon and honey before the interview
Listen to talk radio
Listen to a pump-up song before the interview
Schedule an interview at your best time
Keep a glass of water available during the interview
Prepare for these common phone interview questions
Don't smoke, eat, or chew gum
Don't interrupt the interviewer
Understand that the phone interview is the first step in a list of many that will land you your next position.
---