Is it Safe to Hire a Job Hopper?
March 10, 2015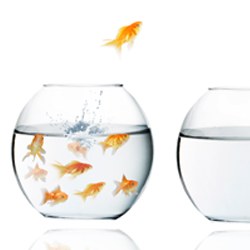 If you were presented the candidate who matches every single need of your organization, but he or she had acquired the skills, traits, and history in brief stints; what would you do? We'd like to dispel some of the myths that come with job hoppers in the 21st century, and point out some statistics that you should know.
Hiring Managers More Likely to Hire Job Hoppers
Once considered completely estranged, despised by hiring managers, and unreliable to teams; the job hopper is becoming accepted if not embraced by organizations.
This according to a recent CareerBuilder survey, which found that hiring managers are at least more likely to tolerate the job hopper:
55 Percent of employers have hired a job hopper in the past
32 Percent expect an employee to job hop
Why is job-hopping becoming an acceptable practice? Skills.
Many different surveys conducted over the past few years have found that job hoppers bring a wide range of skills to an organization, and can adapt quickly to new positions. Entrepreneur Magazine recently broke down the job hopper benefits and red flags in a recent article, finding that
Job Hoppers are Quick to Adapt: They are able to work with many different types of people in different cultures, using different skills.
Job Hoppers Have a Large Network: With many different experiences in sometimes different sectors, the job hopper has a bit larger Rolodex than entrenched employees.
Job Hoppers Bring Diverse Skills: Each new position requires some form of new skills. Job hoppers who are able to learn and use skills developed throughout their history.
Why are Candidates Likely to Job Hop?
Of course, candidates aren't likely to move without a good reason. It could be as simple as pointing to the major increase in hiring in the wake of slow wage growth, but Accountemps looked deeper, surveying employees to find the top 5 reasons job hoppers hop:
1. Compensation
2. Skills
3. Climbing the Career Ladder
4. New Cultural Experiences
5. Demonstrating Career Progression
When Should a Job Hopper Settle Down?
Some feel that there are lines that shouldn't be crossed. Five or more jobs in ten years raises red flags for many employers, and job hoppers are expected to settle down around age 30 or 35. According to CareerBuilder, 41 percent of employers find job hopping to be less acceptable during the mid-30s, and 28 percent believe that employees should find their fit by age 40.
What to Avoid in Job Seekers with Short Stints
Of course, there are things you need to watch out for in a job seeker with broad job history. Specifically, watch out for the 'career hopper.' Unlike the job hopper, the career hopper seems to be someone who has no clue what he or she wants to do. Make sure that the resume paints a coherent picture of growth, not a salesperson, accountant, and pastry chef in the past 5 years.
Next, if you're feeling apprehensive of job hoppers, check the references. If all of the references contribute to the picture of an excellent employee, don't hesitate to call. But if he or she has no references, few references, or negative references, you may have crossed a bridge burner. Finally, make sure that each position provides the job seeker with some form of learning experience—not a job to have a job.
Conclusion
Even if you are apprehensive of hiring a job hopper, the best way to know is ensure that they grew in some way from taking each job, and can bring the combined history to better your organization.
If you're seeking an employee with the right combination of skills who can better your organization, fit your culture, and play into your long term strategy, contact The Overture Group today!
---