International Experience: A Benefit or Prerequisite for CFOs?
January 13, 2015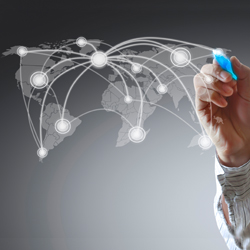 It's been shown that time abroad can benefit a career, but a new study shows that it may become a prerequisite for aspiring chief financial officers seeking positions at large organizations. With nearly 400 CFOs currently seated in the role at the largest 1,000 organizations, even if it isn't a prerequisite per se, it certainly doesn't hurt to have international experience.
Why Are Companies Fighting for International CFOs?
According to a recent Wall Street Journal article on the topic, CFOs with international experience develop a slightly different skillset from those coming from domestic backgrounds:
Better under Pressure: Current EVP and CFO of the Sara Lee Corporation Marcel Smits recalls a sweeping change during his tenure as Unilever's South American finance chief that required him to rework the books overnight when Venezuela slapped businesses with a new tax during the 90s.
Understanding of Multiple Markets: In 2013, companies in the S&P 500 saw a 10% increase in sales outside the U.S., now totaling nearly half of total sales.
Experience in Local Volatility: Especially in recent months, the ability to understand local markets in extreme volatility has become a trait to be admired. With oil prices dropping nearly 50% in the past seven months, the dollar's rise in value as opposed to the euro, and the volatile political/economic climates in Greece, Ukraine, and Russia; CFOs who have worked in the trenches abroad may be better suited for leading roles.
Societal, Legal and Cultural Expertise: Knowing the market, the laws, the cultural norms, and the supply chain make for more rounded financial expertise.
Tips for Aspiring Global CFOs
However, becoming an international financial professional has its challenges. Competition for some exotic locales can be tough, because others may require living in challenging conditions. Any form of expatriation has its challenges, but there are four tips for the aspiring global CFO:
Take a Challenge: The bigger the risk, the bigger the potential reward. Working in an emerging market requires creativity and the ability to react quickly, as issues such as spotty electricity, roads, and difficult governments give the common responsibilities more value.
Think Beyond Finance: Getting acclimated in the international trenches may require you to take a step back, making a lateral move into a different division, as modern CFOs need more than just math. Possibly a stint in supply chain, operations, or the like would allow you to demonstrate flexibility and adaptability, showing off leadership on the job.
Go Early: The longer you wait to make your move, the more things you have to sacrifice. Although easier to go before you have a home, family, etc., many companies will offer relocation support for families if needed.
Assimilate: Make the most of your experience abroad. Learn the language, make friends in the country and adapt to local norms. Showing teams on the ground you respect and understand their culture is highly valued. In addition to this, it makes it easier to suffer culture shock, moving back.
The Overture Group respects CFOs from all backgrounds, and can supply an organization with experienced financial professionals from many different backgrounds. Contact us to learn more about our services to your organization.
---