How to Tell When Employees are Disengaged
March 22, 2023
Are you noticing a mood shift in an employee that you can't quite place?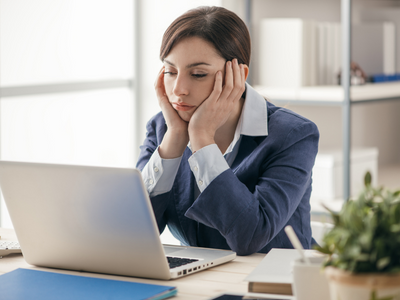 Employee disengagement happens when someone lacks the drive, loyalty, and excitement for their job. Why they're feeling this way isn't always clear, but the causes can include:
Poor management
Lack of support
Insufficient compensation
Toxic work environment
Limited prospects for personal or professional growth
Effective leaders know disengagement is the enemy of great company culture. It can negatively impact retention, productivity, and overall mood. To help you address these issues before they turn into a HR headache, we've compiled some common signs that can point to a disengaged employee.
They're less productive
Is an employee habitually turning in work late or neglecting to do it all together? Or perhaps they're still meeting deadlines, but their quality of work has dropped. Decreased output is especially detrimental if your employees work on a team, where others "picking up the slack" can easily become overloaded and stressed.
When it's not about engagement
Many factors affect employee productivity, and many are not workplace disengagement. For example, perhaps the company has developed new processes or started using new software. It may be possible an employee is struggling with the transition.
Reasons aren't always work-related, either. Health problems, family problems, and other personal issues can make it hard to stay focused on the job. While leaders hope their employees will be transparent with them in these situations, the employee may not be comfortable discussing it. They may not even notice how their performance has changed.
They don't participate
Is an employee frequently zoning off, browsing the web, or having side conversations during meetings? They may lack enthusiasm for their work or feel like their opinions don't matter. Either way, they're mentally removed.
When it's not about engagement
Not all people participate in the same ways, so don't assume it's disengagement if someone doesn't talk much in meetings. They might dislike being put on the spot, and need more time to process their thoughts and opinions before communicating them. If an employee isn't speaking up, ask (privately) what might help them join the conversation.
They come in late or leave early
Disengaged employees don't like being around longer than they need to be. They may be absent more often, show up late for work, or always "slip away" early. These individuals may also take longer breaks, such as excessively long lunches.
When it's not about engagement
If you notice an employee packing up at 4:30 p.m. on the dot each day, it might seem like they're anxious to clock out. This isn't always a case of disengagement, especially if they're still maintaining a steady workload. Many people have weeknight obligations, whether that's picking up a child from daycare or making it to a workout class. Good leaders will make it a point to ask and build a deeper understanding of that employee's situation.
I think my employee is disengaged, what's next?
Notice these signs in your employees? Open up a dialogue. This work should always start with a discussion, not an accusation.
As we've noted, a sudden change in behavior doesn't necessarily mean a person is not engaged. Even if disengagement is the culprit, approaching these conversations in the right way will help you understand why they might feel withdrawn.
Often, engaged employees are both right for the position and your company's culture. You can mitigate the problem of disengagement by hiring the right candidates.
If you're looking to do so, reach out to our team of experts. We'll help you find the candidates who are ready to engage with your company's mission.
---