How to Maintain an Ongoing Recruiting Process
February 11, 2014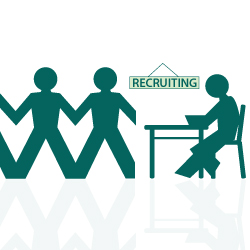 Keeping a long-term strategy in mind while recruiting and developing new talent is one of the most important concepts that some recruiters fail to grasp. By considering the positional recruitment a one-and-done idea, companies are falling behind competitors. How can you avoid this one-time mentality, and develop an efficient and organized talent management team?
Just as we recommend that candidates always keep an updated resume, we also recommend that employers always keep an up-to-the-date recruitment plan. Unfortunately, having some turnover among your employees is an inevitable part of running a business.
Structuring your recruiting process so that it is efficient and ongoing will help to ensure you always have a pool of top talent to pull from.
A recent article "Recruiting is an ongoing process, Not a One-Time Event" on the TLNT Magazine website provides 5 key tactics for maintaining a strategic recruiting process.
Here are some simple steps to take in order to create a recruiting process for your company:
1. Identify your most important positions. Every organization has positions that are most critical. Making sure you have a backup plan for these roles should be a top priority.
2. Identify who is most likely to be recruited away. The grass might not always be greener, but more money and better benefits might be enough to lure away some of your top talent. Make sure you know who your closest competitors would love to recruit away and develop a pipeline to replace them just in case.
3. Develop candidate profiles. What does the perfect candidate look like to you? This can be modeled after some of the best hires you've made in the past.
4. Engage in active recruiting for positions that are already full. Recruiting doesn't need to start with an interview. Engage with potential hires on social media. Seek them out at networking events. Buy them lunch. Just make sure they know that you are interested in speaking when the time is right for them; it my come quicker than you anticipate.
5. Develop an intern program. Interns give valuable support to your business while also creating a pool of potential hires. A pool that you have already seen at work, and should have an idea of how good a fit they might be.
While you can't be certain which positions will turnover, you can be sure some will. Those businesses with a solid recruiting process will be much better equipped to deal with such turnover with limited impact on their bottom line.
Read the complete article here.
The Overture Group knows and understands the purpose and planning that goes into an effective recruiting strategy. Hiring on all cylinders, we bring the perfect meeting point between candidates and clients. Contact us to see how our effective process can assist your company in meeting your recruiting goals.
---