How Employees Build Trust with Leadership
November 10, 2022
Whether you're looking to move up the ladder or just improve your relationship with leadership, building trust is essential. Employers appreciate reliability and are more likely to provide trustworthy team members with opportunities.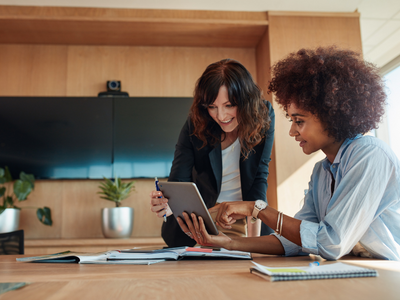 As a recruiting firm, we talk to hundreds of professionals to find out what they value in employees, and what qualities they look for when hiring. Here's what we've learned from them about building trust with leadership:
Be Consistent
Ever worked with someone who produces great work sometimes, and completely drops the ball other times? Perhaps you know someone who is positive and respectful, but only if you catch them on a good day. If you have, you know that inconsistency can be damaging to productivity and morale.
While everyone has off days, leaders value employees that maintain the same attitude and effort across all projects, assignments, and situations in general. They want to trust you'll put your best foot forward. Make sure you're taking care of yourself outside of work so you can be fully present and engaged. To ensure the work you produce is consistent, try implementing and following processes.
How Employees Practice This
Take time off when feeling burnout
Establish a routine
Spend sufficient time on tasks
Look for Solutions
Leaders are usually excellent problem-solvers. After all, a significant part of their job is to improve efficiency and eliminate roadblocks for team members. Because of this dynamic though, employees often present problems and solely rely on leadership for a solution. Employees looking to build trust should avoid falling into this pattern.
When an issue arises within your task or project, don't just wave the red flag. Troubleshoot possible solutions, even if that means jumping on the phone with a customer support team. If you do bring something to your leader's attention, ensure it's because you can't solve it yourself. Overall, being a proactive problem solver shows you can be trusted to handle projects independently, and that you won't let minor roadblocks halt your progress.
How Employees Practice This
Identify the roadblocks in your problem
Spend time troubleshooting or investigating
Offer ideas when others present problems
Be Accountable
Even the most seasoned employee makes mistakes. Whether it's arriving late or missing a deadline, everyone has the occasional slip-up. And if you have a good leader, they won't expect perfection. They will, however, expect transparency and accountability.
So, instead of sweeping your mistake under the rug, give your leader some insight. Without providing excuses, explain what went wrong and why. This allows your leader the chance to help or offer solutions if necessary. Being transparent also shows you value your work and care more about a successful outcome than "looking bad."
How Employees Practice This
Avoid hiding/covering up errors
Ask leadership for help
Admit when you're struggling
If your organization is looking for employees that know how to build trust in the work place, reach out!
---