Hiring Secrets: The Rise of Content Recruiting
April 28, 2015
You know social recruiting and you know employer branding, but there is one thing that employers have ignored in their quest to source both passive candidates and active job seekers.
That secret? Content Recruiting: The practice of using content marketing to brand and promote your company, and acquire and retain top talent.
Why Content Recruiting? Why Now?
It's simple. Candidates have been given more power in the hiring manager/job applicant relationship.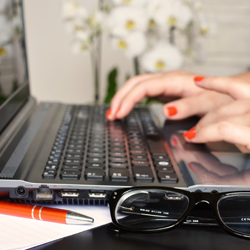 Just as the rise of the internet gave way to a shift of power from seller to buyer (60% of a buyer's decision is already made before he or she wants to even speak with a salesperson); the shift of power from hiring manager to candidate means you will need to sell the candidate without cold calling him or her.
Casting a Wider Net
In the book Scientific Advertising, author Claude Hopkins implied the fact that advertising (or in this case, marketing) is sales, but on a scale of 1,000x.
Consider the amount of time it would take you to make 1,000 calls. At a laborious pace of 120 calls per day, that's nearly two weeks of making calls—not including the entire interviewing process.
Developing a Pipeline
By developing a talent brand through content recruiting, you have an opportunity to build interest for current and future positions.
You already have a pipeline, but the ability to even get partially interested candidates signing up for an email list or RSS feed, following you on social media accounts, or actually applying for the position you haven't filled in months could justify any expense the shift to content recruiting may have cost.
It Gives Something Shareable
People aren't insanely interested in seeing the same nondescript post about a job. They want to see something that helps them improve their lives. By writing something interesting about your company, culture, or employees, you can give employees something to share.
It Could Improve Retention
Also, consider the effect that a content recruiting could have on employee retention. Think of the positive influence that highlighting an achievement (x is running a 5K to raise money for [cause]) or talking with someone about their daily activities (a day in the life of x) could have on employees' views of the company.
Employer Branding Through Content Recruiting
There are many ways to get into content recruiting for improved employer branding. You can start with the basics of social media using your current accounts. Send out awesome advice from external sources like Forbes, Inc., Wall Street Journal, or the like and blend it in with the job postings.
From here, start a blog. Depending on how much your company blogs already, you can either use the main company blog or you can create the [company] culture blog which will be used explicitly for your content recruiting strategy.
After this, the options are endless. Here are 10 ideas to get started.
1. A Day in the Life of [Position]
2. We're Excited to Celebrate Birthdays in [Month]
3. [Company]'s Favorite Interview Questions
4. Q&A with [Employee]
5. Philanthropic Events
6. Employee Awards (like this)
7. Highlight Some Tradition at Your Company
8. General Job Seeker Advice
Things to Put on a Cover Letter
Things to Put on a Resume
9. After-Work Activities
10. Spruced-Up Job Descriptions
You can see that these all highlight your culture, make a job description look awesome, make your company seem like the place to be in 2015, and let you get to know employees.
What else? Develop a mailing list. In addition to the common "sign up for our newsletter" or "get weekly jobs mailed to you," combine your job postings with the news, and tailor it to different potential departments.
Maybe even more, commit to an entire inbound recruiting strategy. In 7 Steps to Recruit Talent Using Inbound Strategy and Technology, HubSpot shares tips to reach 'unicorns,' marketers with a wide variety of skills. However, these seven tips can be used for any position. Segment your information and share to reach your "Candidate Personas."
All in all, if you can successfully treat recruiting like a marketer, you can develop your candidate pipeline, reach passive candidates, and even improve your retention.
Remember: Sometimes You Have to Pick Up the Phone
This is great advice for long-term success. However, there are definitely times when you've been in need of a candidate for months, and your company can't work another day without him or her.
That's where you start making calls.
Maybe that doesn't work.
That's where we come in. Learn more about what the Overture Group does, and how we can help you.
---