Easing the Pain of Performance Reviews
June 10, 2014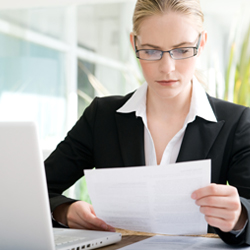 It's an often despised process by employee and employer. Just the phrase 'performance review' has sent shivers down the spine of half of the readers. But why?
Is the performance review process really that bad, or are companies just failing to get the point?
According to the 2013 Employee Recognition Programs survey by the Society for Human Resource Management,
53 Percent of Employers believe that annual performance reviews are an accurate appraisal of an employee's performance.
49 Percent of human resources professionals believe their performance-review process needs to be re-evaluated.
Only 26 Percent of Employees are satisfied with the recognition they receive for doing a good job.
But what can be done to ease the pain of performance reviews? We look to share with you tips on improving the value of performance reviews for both the employee and the organization.
Prepare
Because performance reviews are often seen as a boring, bureaucratic exercise, many managers spend little to no time preparing. Unfortunately, lack of preparation diminishes the value of the review with the employee. Notes retired businessman and Forbes contributor Victor Lipman, "Year-end evaluations aren't just a one-time, one-hour meeting, but something to substantively prepare for. Significant thought should go into it, not just about top-line results…but what are the key messages you want to convey, what's the overall feeling you'd like the employee to leave the meeting with?"
Brief Employees for Review
Part of putting employees at ease is letting them know what to expect during their performance review. Companies collect and use different information during these employee appraisal meetings so how you kick it off will differ.
Look at four key areas to open the conversation:
1) Past Performance
2) Current Performance
3) Goals and objectives
4) Your personal development plan (To achieve said goals)
Encourage Open Communication
A performance appraisal should never be a one-way discussion. This is the time to talk about your point of view, but it's also the time to find out what the employee thinks.
What do they believe went well?
What didn't happen the way they'd hoped?
If they could do anything over what would they do differently?
Given prior year's goals and objectives, what support do they believe they will need from you?
Given their areas of weakness last year and their new goals and objectives for the current year, on what areas do they want to focus for their personal and career development?
Give praise and credit where it is due
Performance reviews have become an important aspect in making sure high-performing employees are recognized. Don't miss this opportunity to praise exceptional employees – or you may lose them to the competition.
Don't shy away from dealing with issues
Reviews are a good time to recognize employees for outstanding work, but it's also an important occasion to reinforce plans for getting an employee back on track when there have been issues.
Performance reviews can be a good time to emphasize expected behavior changes and reiterate consequences, should changes not occur.
Ensure You Are on the Same Page
The goal during a performance review is to make sure both employee and employer have a complete understanding about the employees' performance, their achievements and failures/pitfalls, their next year's goals and objectives, and their development plan.
By focusing on gaining agreement during each aspect of the review, it helps to ensure that the employee hears the employer point of view and vice versa, in order to reach a more meaningful performance review.
We hope that this helps to make your performance review process more relevant and bearable on both sides of the desk. Now that you know how to make the process more relevant, contact us to find the candidates that make the performance review a pleasant experience.
---