Easing Candidate Application Pain Points
November 18, 2014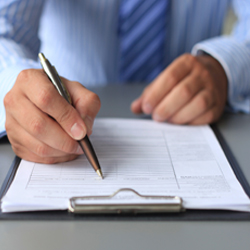 The battlefield has shifted, and we are now entering into something the likes of which have been unheard since 1999. Candidates are moving into control, and without the right calculations in the battle for candidates, you will be losing top prospects to competitors.
As mentioned in our introduction, top candidates are in demand due in part to the lower unemployment rate, higher turnover rate, and stagnant salaries internally.
Candidates are seeing more demand for their services, and if you aren't making the candidate experience more pleasant, said candidate will bounce to a competitor.
One of the most glaring problems that companies have ignored for years is the application process. So much so, that applicants find job applications harder to complete than applications for a mortgage, health insurance, or even college. According to a study by Jibe software, 60% of individuals rank job applications among the top three most complex applications they fill out.
Does the application process at your company bring up words like time consuming, stressful, discouraging, or even painful? If so, you're not alone. However, if it does, you are also pushing candidates away. Among those candidates are likely the top candidates, whom you may have just lost to a competitor.
This trend frightens internal sourcing departments, with 37 percent of recruitment professionals concerned that their company's application process is deterring quality hires. Not only is this hurting your employer brand, it may even hurt the company. 23 percent of applicants that have problems applying will never apply at the company again, and 25 percent of talent acquisition professionals feel that poor application processes may prevent consumers from buying products or services from the company.
So, what can you do to help ease candidates into applying?
Kill the Plain Text: Candidates want to upload resumes, not copy, paste, and reformat into a box. 55% of candidates in the study actually gave up on an online application if they couldn't upload a resume.
Mobilize it: 33% of HR professionals believe that candidates will be less interested in applying if they couldn't do so on a mobile device. With document editing software available on mobile devices, this doesn't just concern the lowest level positions. 70% of applicants would use a smartphone to apply for a job.
Save The Process: 60% of applicants have either quit an online application, or thought they were finished, losing all of the work.
Follow Up: The following disparity could be alarming. Only 14% of applicants are informed about the status of their application, yet 51% expect to be informed somewhere in the process. Even a simple email thanking an applicant for the position, notifying the candidate that the position has been filled works wonders for applicants seeking feedback.
The job search can be stressful for candidates, and the least that HR managers feel they can do is to make the process clear and user-friendly. By making the application process easier and more transparent, you can help to engage the candidate that would otherwise bounce directly to your competitor's website.
Again, with the shift of power from company fighting off thousands of applicants to the candidate fighting off two or three job offers, an application process labeled "ok" in 2009 will be labeled as "dismal" in 2015. This change of technology and economics means you can't let candidates slip away.
If you want to win the war for talent, sometimes it's important to call for reinforcements. Maybe you have the time to wait for some positions, but for the critical, "we need him/her yesterday" people, that's where we fit in. As a leading executive search firm, we supply your organization with the high-caliber talent you need now.
One of our many satisfied clients, a Controller from a Manufacturing/Construction company, had this to say about our timeliness, accuracy, and professionalism:
"Every detail in the hiring process was handled. The amount of time and energy Overture put into the search would have been a full-time job for an internal person and, quite honestly, would not have been as professional and in-depth. At the end of the process, you will end up with the perfect candidate—but more importantly, throughout the process, your every question, thought and concern will be answered professionally and promptly."
---