Companies are Stumped by Tools for Finding the Right Talent
June 16, 2015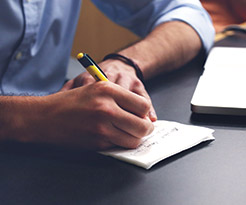 Let's face it, not many people can predict the future very accurately, especially not hiring managers.
Human resources software is not any better at predicting potential candidates, with an array of metrics such as 401(k) contributions and promotions that a potential candidate may have.
According to a WSJ article, a software company called Ultimate Software Group Inc., has a Performer Predictor tool that scores workers on their future performance.
Performance predicting software like this can definitely change the way future stars are hired and ultimately save the employer time and money. Some companies such as Nokia Corp. and American Express Co. are even using games to identify whether workers have perseverance and other desirable traits the company may be looking for.
How accurate is performance predicting software?
While it may be nice to find the right talent through assessment tools, it's just not practical.
It doesn't always boil down to the science of human resources software. There has been many times where workers who score with high potential end up not working out in the end.
Depending on the hiring manager's judgment, picking an excellent employee is more of an art than a science. Choosing a high potential candidate by instinct is proven to work over half the time, according to 134 companies surveyed.
Simply reviewing past performance reviews or relying on gut instinct when picking the right candidate will result in an accurate hire. Though, gut instinct may not be as quick, finding the perfect fit for a company is best done in the hands of hiring managers and recruiting firms.
When companies are faced with a sudden vacancy in a c-suite position, software may be quick to use but collaborating with The Overture Group will ensure a higher quality placement.
We can provide candidate that fit your temporary or long-term corporate needs within your timeframe. With the right skills and knowledge, we have proven successful executive placements.
Let us help you get passed all the assessment tools and find the right candidate for the job.
For more information, we welcome you to download Talent Acquisition: A Road Map for Success today.
---