CFO Network's Top Recommendations for Developing Talent
June 28, 2013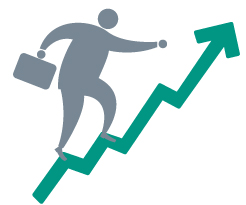 A recent article in the Wall Street Journal CFO Journal reported the CFO Network task force's top recommendations for companies handling some of today's biggest challenges. The WSJ CFO Network brings together leading chief financial officers from the world's largest corporations to discuss the most pressing issues facing their companies.
Executives come together to discuss their management and policy agendas in a variety of areas including HR, energy management, and corporate health costs. This group includes CFO's from PepsiCo, AT&T, and Gilead Sciences to name a few.
One of the questions posed was "What's The Best Way To Develop Talent?"
CFOs often do not see the talent on their team necessary to free them up to focus on broader business objectives so the task force created a list of recommendations to help develop top performers and keep them performing at a high level.
We've listed their top recommendations below.
Engage Employees
Many experts believe employee engagement is one of the keys to a company's long-term goals and financial success. Therefore, it's no surprise that employee engagement ranks as one of the task force's top priorities when developing talent. Companies can appeal to employees through community involvement programs, and affinity groups while creating long-term development of talent and aligning business objectives.
Promote Persuasion
The finance department within a company is a major driver and influence so it is crucial that corporate-finance employees learn how to speak effectively across different disciplines and business functions. This includes written, oral, internal, and external communications.
Encourage Partnerships
Do not confine finance talent exclusively to finance tasks but instead use cross-functional assignments. This will give them the opportunity to establish other business functions.
Continuous Learning
One way to ensure your company's talent is mastering the skills required in an evolving financial environment is through continuous learning. Make sure the business setting is dynamic with the ability to learn and grow both professionally.
By no means is this list fully comprehensive as talent development is a multi-dimensional, ever evolving process of identifying, facilitating, and retaining talent. However, these recommendations are helpful for you to begin the process of ensuring you have the talent you need.
---