10 Questions Hiring Managers Are Begging You to Ask
April 29, 2014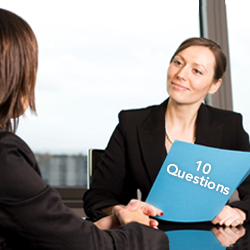 So you've tailored your resume, written the perfect cover letter, and have finally reached the interviewing stage with the company at which you hope you can spend a fair portion of your career. Yet, as recruiters, we notice that the question that makes candidates of all career levels and backgrounds nervous is one that should be easy to answer. That question?
"Do You Have Any Questions for Me?"
This is among a sourcing manager's favorite questions, because it shows that employees care about the company, the culture, and have done their research.
We have spanned our team, looked across other sources, and now bring you the questions that you need to ask your recruiter or hiring manager.
1. Why is the Position Open?
2. What do you like most about the company? This is the polite way to ask "Why do I want to work here?"
Alternate: Why did you join [Company]?
Alternate: What excites you most about coming into work?
3. If I were to start today, what would be my top priority?
4. How does this position contribute to the overall company strategy (in the short, medium, and long-term)?
5. What are the expectations and metrics by which employees in this position are judged?
6. I understand that your company prides itself on [company strength], how does your company continue to achieve goals pertaining to this?
7. What are two personality traits that a candidate needs to be successful in this position?
8. Do you see any reason I may not be the best fit for this job?
Alternate: Is there any reason you wouldn't hire me?
9. What is the timeline of hiring?
Alternate: What are the next steps?
10. How many people are you interviewing for this position?
The Overture Group understands that the best candidate is an informed candidate. With offices in Cedar Rapids, and Suburban Chicago we understand what it takes to be hiring on all cylinders. We invite you to share this with candidates looking to have the best experience in their next interview.
Related: 7 Reasons Your Resume Should Never Be Outdated
Special Thanks to Mashable, PR Daily, Forbes, BigInterview, and Evil HR Lady for their insight from other hiring managers regarding interview questions.
What other questions do you think, as a candidate or hiring manager, are the most beneficial to interviews? Share them in the comments below.
---